Random Blogging For Wednesday November 20th
Happy Hump Day! Well today I turn 38.. Blah.. Ok that's all I have to say about that.. I'll try to forget that i'm 2 years from 40 today and have a great day inspite of it! Hope you do as well! Here's what you missed on today's show.
The Morning Brain Buster:
Q: 1 in 10 women love THIS more than their partner.
A: Their pet
Bonehead Of The Day:
A Colorado man says his dog Baxter received a letter informing him that a health insurance account had been opened in his name through Connect for Health Colorado.
The man had called the program to sign up for insurance because his old plan was cancelled due to Obamacare, but somehow his dog got covered instead.
He thinks the mistake was caused by a series of security questions a representative asked him over the phone.
Luckily, he was able to call and correct the mistake fairly quickly.
A Restroom In America Has Been Named The Number One Place To Go Number Two
The best restroom in America has been named and this year's winning restroom is at the Varsity Theater in Minneapolis, Minnesota.
The restroom even invites guests into an Alice In Wonderland-like grotto.
The annual contest is put on by Cintas, a company that sells restroom supplies, among other products. Nominees included the Madonna Inn in California, the Tampa Airport, the Waldorf Astoria in Manhattan and the Ground Kontrol Classic Arcade in Portland, Oregon.
But this year's "King of Thrones," was the Varsity Theater. The decor inside the bathrooms at the old vaudeville theater is like Harry Potter meets Alice in Wonderland on acid. Sinks are operated by foot pedal and there's a co-ed hand washing area. Bartenders even serve drinks into the restroom on a back counter.
The winner was honored for its "quirky design."
Adam Levine.. Sexiest Man Alive.. What Ever.. It's ME! HA HA
WHATEV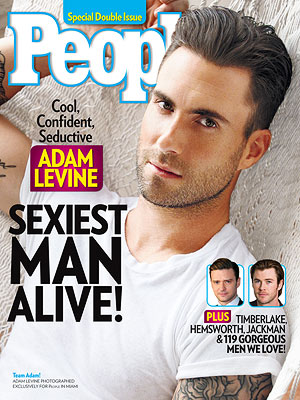 Adam Levine was officially named PEOPLE mag's Sexiest Man Alive.

The Maroon 5 singer says: "As a musician, you have fantasies that you want to win Grammys, but I didn't really think that this was on the table. .."
"The Voice" judge reveals that he cries at movies (E.T. The Extra-Terrestrial always gets him), loves to be naked and is looking forward to settling down with his fiancée, Victoria's Secret model Behati Prinsloo.
Coming Soon.. Duck Dynasty Clothing
Jep and Jessica Robertson from "Duck Dynasty" said they will come out with their own clothing line in 2014.
Jessica said they will have a full line of clothing and accessories but did not release specifics.
She said they are excited about the new business venture and it has been a dream of theirs for a long time.
What If They Were Alive Today..



Sachs Media Group posted artist renditions of what legendary rock stars like John Lennon, Bob Marley and Kurt Cobain, among others, would look like if they were alive today.
Former Nirvana lead singer Cobain would have "explored smaller, less commercial projects." Marley "would have been a dream partner for stars like the Fugees and Kanye West." And Lennon "almost certainly would have stayed with Yoko Ono."
Birthdays:
~~Vice President Joe Biden is 71
~~Actress Bo Derek is 57. ("10")
~~Actress Ashley Fink ("Glee") is 27.
~~Actor Cody Linley ("Hannah Montana") is 4.
~~Actor, Joel McHale ("Community", "Ted") is 42 (The Soup)
~~Actress Nadine Velazquez ("My Name Is Earl") is 35. (Flight)
~~Actress, Kaye Ballard is 88 (The Mothers-In Law; The Hollywood Squares; many more))
~~Actor, Dan Byrd (" Cougar Town"; "Easy A") is 28
~~Actress, Veronica Hamel is 70 (Cannonball; Hill Street Blues)
~~Actress, Estelle Parsons is 86 (Bonnie and Clyde; Roseanne)
~~Comedian Dick Smothers is 75.
~~Actress, Callie Thorne is 44 (Rescue Me; Necessary Roughness)
~~Actor, Samuel E. Wright ("The Lion King") is 67 (Sebastian in "Little Mermaid")
~~Actress, Sean Young is 54 (Young Doctors In Love, Ace Ventura Pet Detective, Fatal Instinct; Blade Runner)
~~Actor Richard Masur ("One Day at a Time") is 65.
~~Actress Ming-Na ("ER") is 50.
~~ Actor Joshua Gomez ("Chuck") is 38.


MUSICALLY:

~~Rocker Joe Walsh is 66 (The Eagles; solo)
~~Rapper Mike D (of the Beastie Boys) is 48.
~~Rapper Sen Dog (of Cypress Hill) is 48.
~~Bassist Jared Followill (of Kings of Leon) is 27
~~Drummer Todd Nance (of Widespread Panic) is 51.
~~Pianist Jim Brickman is 52.
~~Rapper, Phife Dog ( A Tribe Called Quest) is 43
~~Drummer Jim Brown (of UB40) is 56
~~Singer Norman Greenbaum is 71
~~Country singer Dierks Bentley is 38
~~Country singer Josh Turner is 36
Winona Ryder Is In Talks To Star In Beatlejuice 2
Winona Ryder says she's in talks for "Beetlejuice 2."

The actress told The Daily Beast, "I'm kind of sworn to secrecy. But it sounds like it might be happening."

Tim Burton has been in talks to direct and Michael Keaton was expected to reprise his role.
The Belly Rub Cafe.. A Restaurant For Dogs
The Belly Rub Cafe in North Carolina is offering a unique eat-in experience… for your pup.
Here's how it works:
Before heading off for dinner, drop your dog off at the restaurant. While they're there, your dog will enjoy the bacon bar, peanut butter biscuits and beef stew that they'll wash down with spring water, which is served in mini toilet bowls. The place also has special K9 brews on tap.
TV's in the restaurant show films like Rin Tin Tin, Benji, and Lassie, and there are fire hydrants in front of the restaurants for when they need a potty break.
Snail Slime.. For Better Looking Skin.. Alternate Headline.. People Will Do Anything!
Snail slime could soon be the next big thing used in cosmetics.
The slim is full of collagen, glycolic acid, antibiotics and other compounds that regenerate skin cells and heal cuts.
The snail slime will be the next super-ingredient included in cosmetics… it's already being used in products in Asia and South America.
Who Knew There Are 5 Types Of Boredom
Researchers have found a fifth type of boredom.
The researchers already knew about four types of boredom… indifferent boredom, calibrating boredom, searching boredom and reactant boredom.
But they recently found a new type called apathetic boredom which is being hopeless.
They say indifferent boredom is being relaxed and withdrawn; calibrating boredom is being uncertain and easily receptive to change; searching boredom is being restless and in active pursuit of change; and reactant boredom is being motivated to seek out alternatives to a situation.
The Online Dating Website That Asseses Your Hotness.. Or Lack Thereof
Researchers (at the University of Iowa) have created a new online dating engine that not only looks at your tastes to find a partner, but analyzes how attractive you are to help find an equally attractive partner.
It analyzes the replies you receive from dating websites and uses this to evaluate your attractiveness (or unattractiveness).
It then can recommend potential dates who match your taste, and are more likely to think you attractive. Theses people are more likely to reply.
** The researchers won't say whether they've had interest in testing their dating engine from real dating sites, or whether they plan to start their own dating site.
Catfight At The Supermarket
Two groups of women in Wisconsin were involved in a fight at the meat counter in a grocery store.
Police said it started as a dispute over money but it became a fight when one woman pulled out pepper spray.
Two women facing off with four others were sprayed with the pepper spray, while one of them grabbed a frozen turkey, swung it around and then tossed it.
Two women exchanged punches and a pallet holding eight large boxes of bacon was toppled.
A 62-year-old man was struck in the head with a full container of yogurt.
Police cited the angr women for disorderly conduct.
Video Of The Day.. Almost Became The Bonehead Of The Day
A "Family Feud" contestant shocked host Steve Harvey in the latest episode when she included race in her answer to a question about zombies.
When asked to name something you know about zombies she was quickest to hit her buzzer and then announced 'black.'

---

I have been on the air in Siouxland since 1999. Started here on KG95 in 1999, moved to Z98 in 2002 and then back to KG in 2012. I love what I do, it's not many people who can say that. Proud to literally been living the dream for almost 20 years.