Random Blogging For Wednesday March 5th
Good Morning! Happy Hump Day! Hope you have a great one! Here's what you missed on today's show.
The Morning Brain Buster:
Q. The Average American is spending over 3 hours a day doing this. What?
A. Social Networking!
Bonehead Of The Day:
A Tennessee man was arrested after cops found him not wearing any pants and had an active meth lab in his car.
Cops found the man sleeping in his car in a McDonald's parking lot. They knocked on the window to get him to wake up and noticed he wasn't wearing any pants. He admitted to the cops he was using his car as a meth lab. Police found "a quantity of meth in his possession."
He faces several charges including initiation of meth and indecent exposure. He could face more charges since he was within 1,000 feet of a school.
Bonehead Of The Day #2
A fight broke out at a Walmart in Kansas after a customer became frustrated with the self-checkout machine.
Other customers in line became frustrated and the man started swearing at the machine.
The man began arguing with a customer which continued after they left the store. Another shopper got involved in the argument and punched the frustrated customer in the face, knocking out one of his teeth.
Once the cops arrived on the scene only the man with his tooth knocked out was left. No arrests have been made.
Fake Tech Support Scam For Netflix & Gmail Could Give Hackers Control Of Your Machine & It's Camera
There is a new online scam for Netflix and Gmail which could give hackers control of your computer and its webcam.
The users get an email which asks for username and password and asks them to call a support number.
Hackers then answer the phone and ask users to download software allowing to remotely control the machine and the webcam.
They also charge hundreds of dollars for "tech support."
Jetblue, Four Seasons & National Car Rental Among The Favorites In New J.D. Power Survey
A new survey by marketing company J.D. Power and Associates lists nine travel companies that do their jobs so well, they've earned peoples' choice-style awards from thousands of business and leisure travelers.
The winners are:
Hotel companies: The Ritz-Carlton, Four Seasons, Homewood Suites, Drury Hotels and Staybridge Suites
Airlines: Southwest and JetBlue
Car rental companies: Enterprise and National
The winning companies all have certain qualities in common that make them popular. For instance, they all take care of their customers' needs. The companies that won the awards are also consistent.
Another perk is that the winning companies create value through promotions. JetBlue has a great in-flight entertainment system; National offers customers the ability to pick out their own cars; and Drury offers hot dogs and beer at their manager's reception, which appeals to families.
(Clever) Fella Crowdfunds $90,000 Birthday Party
A man in Rockwall, Texas threw himself a $90,000 birthday bash featuring Vanilla Ice and it was all funded by the crowd on the Internet.
The man was turning 30 to he wanted to have a huge birthday party. He then went to the website Crowdtilt.com to raise money for it.
His goal was $35,000 but he ended up with $90,000.
The bash featured the Teenage Mutant Ninja Turtles, rappers Vanilla Ice, Young MC and the DeLorean from "Back to the Future".
The Couple Who Found $10 Million In Rare Coins May Get Nothing
The California couple who found a stash of buried gold in their backyard may not get to keep them at all.
The coins, valued at around $10 million dollars, were hidden under a tree on their property. At first it looked like the couple would get to keep them but would have to pay the IRS almost half of the value.
But a historian and collector of old and rare coins dug up an article about coins that were stolen from the San Francisco mint back in 1900.
The coins were mostly uncirculated and in mint condition and worth about $27,000 face value, which is the same amount that was stolen back in 1900.
One of those stolen coins was an 1866 Liberty $20 gold piece with the words "In God We Trust" on it, which could fetch over $1 million at auction because it's so rare.
That same coin was in the stash they found.
If it turns out they are the stolen coins, the couple wouldn't end up getting them…they'd be the government's property.
(Heartwarming) Youtube Prankster Sets Up Video To Help Homeless Man Win $1,000
A man who goes by the name, "Rahat the magician" on YouTube set up a video where a homeless man wins $1,000 from a "lottery ticket."
The homeless man who sits near a shopping center. The magician gave him a lottery ticket which was fake.
When they arrived at the convenience store the clerk who was in on the surprise gave the homeless man $1,000.
Rahat said many people described the homeless man as a nice guy and he wanted to do something to help him out. Rahat is known on YouTube for usually posting prank videos.
(If Only).. A Ban On The Willfully Annoying
It will soon be okay to be willfully annoying in Grand Rapids, Michigan.
The City Commission is getting rid of a 38-year-old section of city code that states "no person shall willfully annoy another person."
The city attorney says the wording of the code is unconstitutional in terms of being vague and simply unenforceable.
Pet Bird Sucked Up In Vacuum, And Lives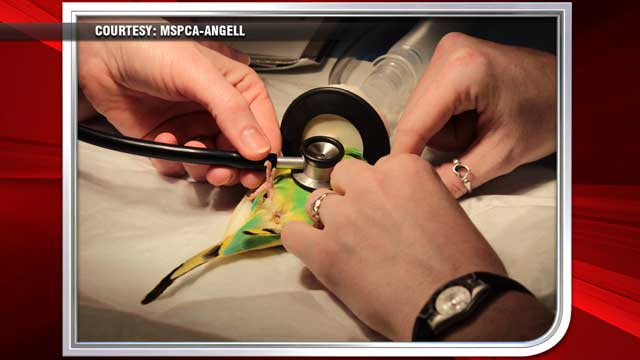 A pet bird in Milton, Massachusetts got into the vacuum and survived.
The parakeet's owner was going to use the family's industrial vacuum when she noticed something strange and found the bird was inside.
She rushed the bird to an animal medical center where vets had to amputate the bird at the wrist.
The bird survived but will no longer be able to fly-- and since it's a pet, it really doesn't need to.
It turns out the bird got into the vacuum to nest… the owner found an egg inside.
Sitting For Hours Negatively Impacting Health.. Like Cankles & Constipation
Sitting for hours can lead to several health problem including cankles, constipation and even brain fog.
A recent study found spending an extra hour sitting a day is linked to a 50% greater risk of being disabled.
Other health problems linked to sitting too long include headaches, creaky knees, colon cancer and back problems.
Laughter May Be The Best Medicine For A Cold
A new study suggests that people who are sick with a cold should be using the power of laughter to feel better.
Three quarters of the (UK) population claim that laughing makes them feel better when they're sick, with women believing in the powers of laughing more than men.
One doctor explains, "We took 14 people suffering from colds and after 30 minutes of watching comedy clips, over 70% said their symptoms weren't as bothersome."
Results also showed that almost a third of Brits felt a healthy laugh would make them feel better than a hug from a loved one or listening to their favorite music.
Eating Lots Of Meet & Cheese In Middle Age Is 'As Dangerous As Smoking'
Middle aged people, listen up.
If you're eating a bunch of meat and cheese right now that decision is just as deadly as taking up smoking.
A new study has found that with people 50+, those that ate a heavy diet of red meat were twice as likely to die early compared to those that had a light diet of red meat or none at all.
They were also four times as likely to die of a cancer - a figure that matches those that smoke vs. those that don't. Eggs, meat, cheese and other animal by-products are aging our bodies cells.
Once you hit your 50's it's better to cut back on these products and instead go for fish, nuts, beans and lentils for your protein sources.
Birthdays:
~~NBA legend, Shaquille O'Neal is 42
~~Actor, Tom Arnold is 55 (Roseanne; True Lies; Soul Plane; many more)
~~Actor-director Rob Reiner is 67. (All In The Family; This Is Spinal Tap; Stand By Me; Sleepless In Seattle; The Wolf of Wall Street; many more)
~~Actor/comedian D.L. Hughley ("The Hughleys") is 50. (The Original Kings of Comedy)
~~Actress Moira Kelly ("One Tree Hill") is 46. (Lion King)
~~Actress Connie Britton ("Nashville"; ''SpinCity") is 47. (Friday Night Lights; American Horror Story)
~~TV News host, John Stossel is 67
~~Actor, Martin Kove is 68 (Karate Kid 1 & 2; Rambo: First Blood Part II)
~~Actress Amy Pietz ("Caroline in the City") is 45
~~Actress Yvette Wilson ("The Parkers") is 50
~~Actress Anna Maria Horsford ("The Shield," ''Amen") is 67
~~Actress Suzanne Crough ("The Partridge Family") is 51.
~~Former NBA star, Michael Finley is 41


MUSICALLY:
~~Singer-guitarist David Gilmour (of Pink Floyd) is 68.
~~Drummer Chris Tomson (of Vampire Weekend) is 30.
~~Rock Musician, Chris Broderick (Megadeth) is 44
~~Rapper, Tyler the Creator is 23
~~Rapper, Beanie Sigel is 40
~~Rapper, Bubba Sparxxx is 37
~~Singer Kiki Dee is 67. (Don't Go Breaking My Heart)
~~Singer Mary Wilson (of The Supremes) is 70.
~~Drummer Hugh Grundy (of The Zombies) is 69
~~Country singer/songwriter, Trent Willmon is 41
~~Country songwriter Skip Ewing is 50
~~Pedal steel player Shan Farmer (of Ricochet) is 40.
~~Country singer Doug Dillard is 77
Update: Kurt Cobain's Craigslist Advertisement Is A Hoax
The ad on Craigslist that featured Kurt Cobain's old roommate selling his belongings is actually a hoax.
The items for sale included a set of skis and a telephone as well as a video game called Kingman. In the listing, the seller wrote that he would be selling more of what he said were Kurt Cobain's possessions in the future.
But listing was revealed as a hoax by Sub Pop Records receptionist Derek Erdman.
Erdman said he got the idea when he was "supposed to be working on something else".
He said: "I created a diversion. Then I ignored it and went back to work. A few hours later I did an interview about it. Later that night I met a TV news crew for an interview, but they called my bluff and asked for ID. I told them that I was a one time bass player for '90s band Gruntruck. They didn't buy it, and they were visibly not happy about me wasting their time, I was wearing a flannel shirt though."
1 In 10 Americans Think HTML Is An STD
Most Americans are lost when it comes to tech-related terms.
In fact, 11% thought HTML was a sexually transmitted disease, when it's actually a language that is used to create websites.
The study by Vouchercloud.net also found:
--77% could not identify what SEO means. SEO stands for "Search-Engine Optimization"
--27% identified "gigabyte" as an insect commonly found in South America. A gigabyte is a measurement unit for the storage capacity of an electronic device.
--42% said they believed a "motherboard" was "the deck of a cruise ship." A motherboard is usually a circuit board that holds many of the key components of a computer.
-23% thought an "MP3" was a "Star Wars" robot. It is actually an audio file.
--18% identified "Blu-ray" as a marine animal. It is a disc format typically used to store high-definition videos.
--15% said they believed "software" is comfortable clothing. Software is a general term for computer programs.
--12% said "USB" is the acronym for a European country. In fact, USB is a type of connector.
--61% of the respondents said it is important to have a good knowledge of technology in this day and age.
Kids Who Sing, Play, Story-Tell & Eat With Parents Do Better
Families who sing, play, story-tell and eat dinner together have children who have higher levels of social-emotional health.
Researchers found that a child has high social-emotional health when they show the ability to understand emotions, express empathy, demonstrate self-regulation and form positive relationships with peers and adults.
High social-emotional health in early childhood helps a child adapt to the school environment and perform well academically. It is also is a good predictor of children's long-term outcomes.
The study also found that children who participated in five family routines were more than twice as likely to have high social-emotional health and for each additional routine that a parent and child do together, there is an almost 50 percent greater chance of having high social-emotional health.
6 Ways To Give Your Love A Boost
1. Make Small Gestures: Sometimes the best validation that someone loves you is to see proof that they are always thinking of you in tiny but touching ways. Planning a romantic night for two on the town takes thought and is always appreciated, but buying your man a red velvet cupcake just because you happened to walk by a bakery, see it in the window, and knew he would love it shows he is your number one. It's that for-no-real-reason feeling that makes it mean so much.
2. Do a Chore She Always Does: A division of labor makes the household run smoothly. But if you take on your mate's chore once in a while, your actions will be completely appreciated. Dry the dishes, take out the trash, make the morning coffee, or clean out the DVR queue. When you love someone, you pitch in even when you're not asked. It's the gift of time that costs nothing! Giving him a break means he has one less item to worry about and more free time to spend with you, read a book, or just sit with his eyes closed after a hard work week.
3. Give Each Other Space: You'll be so much more excited to see each other. Even those couples that are joined at the hip sometimes require a little alone time to refresh in a quiet, personal way. If your man enjoys winding down from a long day with only himself, or your woman likes to be alone with her thoughts, allow it to happen guilt free. You don't need much distance to make the heart grow fonder, but it always does.
4. Write it Down: Telling your mate how much she means to you is not always easy and it can be kind of sappy. But if you make it cute, it's both sentimental and sweet. An "I love you" written on a dry erase board in the kitchen or a "have a great day" left on a post-it is all it takes to let you other half know you cared enough to take the time to write it down.
5. Say Yes: Agreeing to try something you always veto or join her somewhere you always try to get out of, shows you are listening and putting her need first. We don't like going to crowded movie theaters, but every now and then we just say, "Okay! Let's catch a film!" Giving in just a little bit make his face beam.
6. Volunteer: This is not about you and that's why it makes you feel so great together. Working to make the world better, or just to put a smile on a kid's face, gives you a bigger sense of purpose. When you join your purpose in doing a good deed, it just makes you love each other so much more. You can wrap gifts for the homeless, stuff envelopes for a nonprofit, walk animals from the shelter, put on a play at a children's hospital, deliver food to homebound elderly or teach computer skills and shoot a basketball with special-needs kids.
Woman Called Out Cheating Husband With A Newspaper Ad
A woman in Texas got back at her husband for cheating on her with another woman by taking out an ad in a local newspaper.
The woman's message said: "I would like to say congratulations to Shara Cormier and Patrick Brown. They are expecting a baby. Hope you both are really in love and I hope it works out. Always, Patrick's wife, Timeshia Brown."
Video Of The Day:
Cooper and Daisy were taken to the McDonald's drive-thru to enjoy some ice cream. A video shows the driver giving Daisy the first licks at the cone, but Cooper didn't like that. A few seconds later, Cooper ate the entire cone in one gulp!
By the way, it's true that dogs aren't supposed to eat sugar because they can develop dental problems and even diabetes. But the person who uploaded the video explained that Cooper gets ice cream every Friday and usually splits it with 3 other dogs. This has been routine for years.

I have been on the air in Siouxland since 1999. Started here on KG95 in 1999, moved to Z98 in 2002 and then back to KG in 2012. I love what I do, it's not many people who can say that. Proud to literally been living the dream for almost 20 years.