Random Blogging For Wednesday December 11th
Happy Hump Day! Here's what you missed on today's show.
The Morning Brain Buster:
Q. More than 9 out of 10 people who use this say it helps reduce holiday stress. What?
A. Pinterest!
Bonehead Of The Day:
The manager of a motel in Michigan is claiming that a trio of "well-dressed grandmas" were behind the theft of more than 100 cookies that had been baked for a contest.
The cookies were made for a "best cookie" competition among 18 local motels, but the motel's entry was canceled when the three women pulled off the heist.
The group of ladies showed up and one of them asked if they could see a room, so the owner showed her the room. That's when the other two women made off with the cookies. The woman who asked to see the room then left without booking a reservation or even giving her name.
Police are investigating. The motel is offering a free stay to anyone who offers information that leads to the suspects.
The Car Of The Future? 3 Wheels, 84 MPG
A start-up company hopes to start selling a three-wheel car in the US.
Engineering executive Paul Elio is seeking $200 million so he can start production on the car next year.
It will be called Elio and he hopes to sell it for as little as $6,800. He claims gas mileage as high as 49 miles per gallon in the city, 84 mpg on the highway.
It has one door, two seats and three wheels. The driver sits in front of the passenger.
The Google Chromecast Is Time's Gadget Of 2013
The Google Chromecast media streaming device beat out Apple, Microsoft and Nokia to claim the top spot on Time's list of the best gadgets of 2013.
Time said that the gadget's simplicity and focus made it the winner and "lots of companies have built devices to do this; Chromecast is the first one that gets it right."
Apple failed to take the top spot for the first time since 2010. However, the iPad Air and iPad Mini made it to second place, with Time describing them as the "best tablet you can buy, in two convenient sizes." The iPhone 5S grabbed fifth place. Apple was the only company with two products in the top 10.
Nokia's Lumia 1020 handset, with its 41-megapixel camera, is the only other smartphone in the list at number 10.
In terms of tablets, the only other device to make the list is the latest Amazon Kindle Fire HDX, which made it to seventh place.
The Oculus Rift Development Kit virtual reality headset won't launch until sometime in 2014, but it came in third place.
The Pebble crowd-funded smartwatch came in fourth place, while the Leap Motion Controller made it to ninth place.
Here is the list of Time's Top 10 Gadgets:
1. Google Chromecast
2. Apple's new iPads
3. Oculus Rift Development Kit
4. Pebble Smartwatch
5. Apple iPhone 5s
6. Microsoft Xbox One
7. Amazon Kindle Fire HDX
8. Nest Protect
9. Leap Motion Controller
10. Nokia Lumia 1020
200,000 People Have Applied To Go To Mars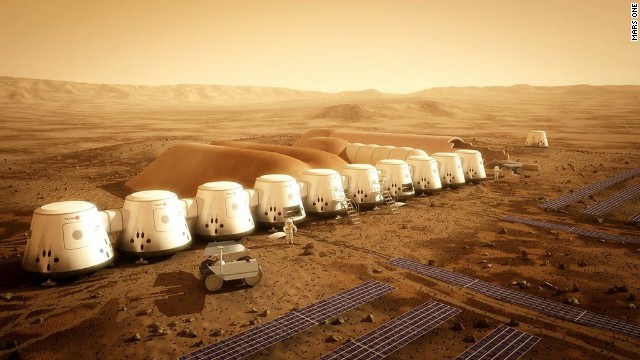 A Dutch company is moving forward with its plan to send four lucky people to colonize Mars. The catch is you won't ever come back.
More than 200,000 people have signed up to be prospective astronauts. The application period is now closed and by the end of this year, the company will notify the people who made it to Round 2.
The Mars One foundation announced that it has gotten enough funding for an unmanned mission in 2018. It will involve a robotic lander and a communications satellite.
This first mission will show the technology that would be involved in a permanent human settlement on Mars. If all goes well, the first people could land on Mars in 2025.
** After the first humans arrive in 2025, the plan is to send additional crews every two years, Right now, the idea is to send crews of four, but eventually bigger vehicles may be able to transport more people.
6 Year Old Suspended For Kissing A Girl in School
A 6-year-old Colorado boy was suspended for kissing a girl on the cheek.
School officials are accusing him of sexual harassment and want it on his permanent record.
The boy was suspended once before for kissing a girl but she didn't object to it.
The school says repeat offenses meet the school policy of sexual harassment and they hope getting tough will change his behavior.
The Doctor Will See You Now.. On Your Cell Phone
Doctor on Demand is a new app that lets you arrange video-based doctor visits on the fly.
The app promises to connect patients to a doctor and arranges a 15-minutes-or-less visit within minutes for $40. Doctor on Demand has a pool of about 1,000 doctors who can prescribe medicine.
The co-founder said the app is designed for short-term medical problems like the flu or a migraine, not something serious like cancer.
Birthdays:
~~Actress-comedian Mo'Nique ("The Parkers") is 46. (Precious)
~~Actress Hailee Steinfeld ("True Grit") is 17.
~~Actress, Rita Moreno is 82 (The Electric Company, West Side Story (an Oscar), The Ritz, 2 Grammys, 9 to 5's Violet Newstead , B.L. Stryker, Cosby Mysteries)
~~U.S. Sec. of State/Sen. John Kerry (Massachusetts) is 70
~~Actress, Bess Armstrong is 60 (On Our Own, All is Forgiven, Married People, My So-Called Life)
~~Actor, Gary Dourdan is 47 (CSI)
~~Actress, Teri Garr is 66 (Close Encounters of the Third Kind; Tootsie; Young Frankenstein; many more)
~~Actress, Lynda Day George is 69 (TV's "Mission: Impossible")
~~Actress Donna Mills ("Knots Landing") is 71. (Play Misty For Me)
~~Actor Max Martini ("The Unit") is 44. (Saving Private Ryan; Revenge)
~~Actor Rider Strong ("Boy Meets World") is 34.
~~Actor, Ben Browder is 51 ( Stargate SG-1)



MUSICALLY:

~~Singer Jermaine Jackson is 59.
~~Bassist Nikki Sixx (of Motley Crue) is 55.
~~Rapper-actor, Mos Def is 40
~~Guitarist, Zacky Vengeance (Avenged Sevenfold) is 32
~~Bassist David Schools (of Widespread Panic) is 49.
~~Drummer, Chester Thompson (Genesis; Phil Collins) is 65
~~Singer-bassist Justin Currie (of Del Amitri) is 49.
~~Bassist, Mike Mesaros (Smithereens) is 56
~~Singer David Gates (of Bread) is 73.
~~Singer Brenda Lee is 69.
Robin Thicke & Ron Burgundy Team Up For Ride Like The Wind
Robin Thicke and Ron Burgundy recorded a disco anthem for the "Anchorman 2: The Legend Continues" ... a remake of "Ride Like The Wind."
---
What The World Needed.. An App To Answer Relationship Questions, Supports You in Tough Times & Give Celebrity News
There's a new app that answers relationship questions, supports you in tough times and even gives you celebrity gossip.
Agonyapp launches this week and works in a similar way to Twitter. It allows you to start and join conversations, share agonies, comments and photos..
It allows you to follow people and topics and you can join as yourself or anonymously.
Conversation topics suggested include beauty, entertainment, fashion, motherhood, news and gossip, relationships, wellbeing and work. And you get real answers to questions from real people in real time.
Hungry? Print Out Your Food.. This is weird!
Scientists have created a 3D printer that makes real food like pizza, pasta and cakes.
The Foodini is expected to go on sale the middle of next year, costing over $1,300. It needs to be loaded with capsules filled with fresh ingredients.
Hungry users can select a design on the machine's control panel and the food is printed as the different ingredients are built up in layers.
NOTE:
Users still will have to cook the food.
There's A Rock Paper Scissors Tournament This Weekend!
In New Hampshire, a group is hosting a rock, paper, scissors tournament of champions with a dozen students from across the state. A ninth grade student came up with the idea for the tournament and has been working for years to make it a reality.
The student has some inside knowledge on the game's strategy - women tend to throw scissors first, while men prefer rock. First prize in the tournament brings in $500.
Check Out The Desk Top Nap Pillow
From the product site:
Product Name: Ostrich Pillow
Price: $99
Who would like this?: Power nappers, sleep lovers, workaholics, insomniacs ... better question: Who wouldn't like this?
Whether on the go or at the office, this pillow is perfect for instantly converting your desk or the airport cafeteria table into a comfortable place to catch a quick snooze.
The thoughtfully designed pillow has four holes: two for your arms, one for breathing from your nose and mouth, and one for your neck.
It's available in three colors: sleepy blue, sunset siesta and mellow yellow.
Video Of The Day:
Today's video is the trailer for the new Godzilla movie.. Looks good!

I have been on the air in Siouxland since 1999. Started here on KG95 in 1999, moved to Z98 in 2002 and then back to KG in 2012. I love what I do, it's not many people who can say that. Proud to literally been living the dream for almost 20 years.