Random Blogging For Tuesday November 12th
Good Morning! How ya doin' on this fine Tuesday? I'll tell ya, started out ridiculously cold, but hey tomorrow it's in the 50's so, Just gotta make it through today.. Hope you have a good one.. Here's what you missed on today's show.
The Morning Brain Buster:
Q: Top 3 conveniences people say they couldn't live without are 1) Microwave, 2) TV, and what was the third?


A: A dishwasher
Bonehead Of The Day:
Four thieves got caught breaking into cars in Rocklin, CA, after they posted when they were planning to hit again, on Instagram.
They were smashing car windows and taking out GPS units, wallets, and more.
A woman who had just had her credit cards stolen called the cops a few minutes after a big order went through at a nearby restaurant (Carl's Jr.)
Cops talked to the manager who said three young men had come through with a large order on a credit card. He knew one of them as a local high school student.
Cops found a post by the kid on Instagram showing pictures of their food and bragging that they'd be back in town the next night.
Cops spotted them when they came back to town and arrested all four for burglary and more.
Passengers To The Crew.. Um Part Of The Plane's Engine Fell Off
A Spirit Airlines returned to O'Hare airport when part of the housing for one of its engines fell off right after takeoff.
It was headed for Ft Lauderdale when part of the cowling for the right engine fell off. A passenger saw it happen and told the flight crew.
The plane declared an emergency and returned to Chicago. The pieces to the engine housing were found on airport property.
No one was hurt and most flyers were rebooked on another flight or given a refund.
Woman Finds Letters From WWII Vet In Her Attic, Delivers Them To His Family
A woman in Pennsylvania who found a group of letters from a World War Two veteran in her attic has delivered them to the man's relatives.
The woman had recently bought the home and found some boxes in the attic. She started going through the boxes and was going to throw everything away before she noticed the letters. The woman found the man's nephew who is also a veteran and delivered the letters to him.
The letters dated back to 1942 and described what the soldier was doing overseas, where he was being trained, etc.
$98K Found In Desk Bought On Craigslist
A Rabbi in New Haven, Connecticut found $98,000 in a desk he bought on Craigslist.
The Rabbi bought the desk for $200 and he got it home it wouldn't fit through the door. So he and his wife had to take it apart to get it in their home.
That's when they found the desk was full of cash…. $98,000 exactly.
The former owner had stuffed her inheritance in the desk and forgot where she put the money. They called the woman and returned the money to her.
You Can Own An Old Gold Mining Town For $225K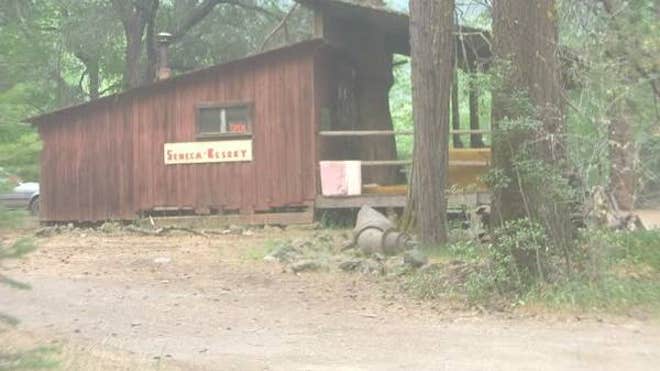 A gold-mining ghost town in northern California is up for sale for less than a quarter of a million dollars.
You get all 12-acres including several buildings, scenic grounds along the (Feather) River, and even an island, all for $225,000.
The deal includes all rights to minerals and timber from the town (Seneca) and has waterfront footage on both sides of the river.
It comes complete with a bar and a liquor license, which is rare being that it's located inside a National Forest.
The public access dirt road is one of the most scenic in the USA.
Gold was found there in 1851 prompting a boom of wild mining for years. The biggest nugget was found in 1942 and would be worth about $400,000 today.
Birthdays:
~~Actor Ryan Gosling is 33 (The Notebook; Lars and the Real Girl; Drive; Crazy. Stupid. Love; The Ides of March; The Place Beyond the Pines; Gangster Squad; Only God Forgives)
~~Actress, Anne Hathaway is 31 (The Princess Diaries, Ella Enchanted, The Devil Wears Prada; Becoming Jane, Get Smart, Rachel Getting Married, Passengers, Bride Wars; Love and Other Drugs; The Dark Knight Rises; Les Misérables)
~~NFL play-by-play announcer Al Michaels is 69 (Was the announcer for the legendary 1980 Olympic Ice Hockey "Miracle on Ice" between team USA and the Soviet team: 'Do You Believe in Miracles? YES!)
~~Actress, Tamala Jones is 39 (The Brothers; Castle; Blue Streak; Head of State; Booty Call)
~~Actor Sam Lloyd ("Scrubs") is 50.
~~Actress, Radha Mitchell is 40 (Silent Hill; Man on Fire; Finding Neverland)
~~Actress, Megan Mullally is 55 (Will & Grace; Fish Police; Parks and Recreation)
~~Actress, Cote De Pablo is 34 (NCIS)
~~Actor, Wallace Shawn is 70 (Toy Story's Rex; Gossip Girl's Cyrus Rose; many more)
~~Actress, Ashley Williams is 35 (As The World Turns' Danielle "Dani" Andropoulos, Good Morning Miami, One Life to Live's Ashley)
~~Actress, Mary Louise Wilson is 81 (One Day at a Times' Ginny Wrobliki, One Life to Live, All My Children's Millicent Smythe)
~~Actress Angela Watson ("Step by Step") is 39.
~~Actress, Mayte Garcia (Prince's ex-wife) is 40 (Army Wives; was engaged to rocker Tommy Lee)
~~Figure skater-turned-trainwreck, Tonya Harding is 43 (Involved in clubbing Nancy Kerrigan in the knee during the 1994 U.S. Nationals. Was arrested for beating up her boyfriend electrician Darren Silver.)
~~Former baseball slugger Sammy Sosa is 45
~~Judge/boxing ref, Mills Lane is 77


MUSICALLY:

~~Singer/rocker Neil Young is 68
~~Guitarist Buck Dharma (of Blue Oyster Cult) is 66.
~~Bassist David Ellefson (of Megadeth) is 49.
~~Bassist Chris Huffman (of Casting Crowns) is 33.
~~Singer Omarion (B2K; solo) is 29.
~~Singer, Leslie McKeown (Bay City Rollers) is 58
~~Singer, Errol Brown (Hot Chocolate) is 65
~~Singer Tevin Campbell is 37
~~Singer/songwriter , Bob Crewe (The Four Seasons) is 76
~~Singer, Arthur Tavares (Tavares) is 70
~~Organist Booker T. Jones (of Booker T. and the MG's) is 69.
~~Singer Ruby Nash Curtis (of Ruby and the Romantics) is 74.
~~Singer, Brian Hyland is 70 ("Itsy Bitsy Teeny Weeny Yellow Polka Dot Bikini")
~~Country singer Barbara Fairchild is 63.
What's New On DVD
Man of Steel (PG-13)
Stars Henry Cavill, Amy Adams

Turbo (PG)
Stars Ryan Reynolds, Samuel L. Jackson

Paradise (PG-13)
Stars Julianne Hough, Octavia Spencer

Prince Avalanche (-R-)
Stars Emile Hirsch, Paul Rudd



TV on DVD:


Dexter: The Final Season
A Country Christmas
Family Ties: The Complete Series
The Last Movie Ever Rented At Blockbuster Was:
Blockbuster ended in-store rentals for good a few nights ago. So what was the final movie rental ever?
It was Seth Rogen's comedy, This Is the End. It was checked out at 11pm in Hawaii.
Blockbuster announced last week that they are closing the last of their 300 U.S. stores.
Video Of The Day:
This is.. I can't believe.. A thing.. A violent new trend among Jersey City teens has them assaulting strangers and taking their possessions.
The teens will walk past strangers and literally hit them with the goal of knocking them unconscious. The game is even being recorded and posted online.

I have been on the air in Siouxland since 1999. Started here on KG95 in 1999, moved to Z98 in 2002 and then back to KG in 2012. I love what I do, it's not many people who can say that. Proud to literally been living the dream for almost 20 years.