Random Blogging For Tuesday June 25th
Good Morning! Happy Tuesday! Hope Monday wasn't too rough on ya.. Look at it this way.. We are now 1 more day closer to the weekend! Yay! Here's what you missed on today's show.
The Morning Brain Buster:
One in five single men say they haven't done this in over a year. What is it?

Cooked a meal
Bonehead Of The Day
An Oregon man wearing a "Got Beer" T-Shirt was arrested for drunken driving.
Cops pulled the 41-year-old over for a traffic stop and realized he was hammered.
He was arrested and booked in jail…his mug shot catches the irony: his shirt says, "Got beer?"
There's no word what his BAC was when he was arrested.
Elton John Has A New Album Coming
Elton John is set to drop his 30th studio album, "The Diving Board", on September 16th.
The set is Elton's first solo album in seven years. He has been working on it since last year, but kept it on the side as he promoted other projects.
More details will be announced soon.
The Most Pirated TV Shows This Spring
Summer TV tends to be a bit slower, so TorrentFreak has compiled the list of the 10 most pirated TV shows of Spring 2013.
1. Game of Thrones-5,200,000 downloads
2. The Big Bang Theory-2,900,000 downloads
3. How I Met Your Mother-2,850,000 downloads
4. The Walking Dead-2,700,000 downloads
5. Hannibal-2,100,000 downloads
6. Vikings-1,900,000 downloads
7. Arrow-1,850,000 downloads
8. The Vampire Diaries-1,800,000
9. Modern Family-1,750,000
10. Revenge-1,700,000
Birthdays:
~~Actor/comedian, Ricky Geravis is 52 (The Office; Ghost Town, The Invention of Lying)
~~Actor-comedian Jimmie Walker is 66. (Good Times)
~~Traveling food guru, Anthony Bourdain is 57
~~Actress Angela Kinsey ("The Office") is 42.
~~Actress, June Lockhart ("Lost in Space") is 88 (Lassie; General Hospital)
~~Actress Barbara Montgomery ("Amen") is 74.
~~NBA legend, Dikembe Mutombo is 47
~~NBA legend, Willis Reed is 71
~~Singer George Michael is 50.
~~Singer Carly Simon is 68.
~~Bassist Mike Kroeger (of Nickelback) is 41.
~~Rapper Candyman is 45. (Knockin Boots)
Celebrity Bonehead Of The Day
Actor and reality TV star Gary Busey visits Middle Earth in his dreams.

He recently explained, "I talk to people about the history of the hobbit... I talk about how the hobbit lives and what they do and their social infrastructure.

"
Busey said, "I know this because I've had dreams and I've gone there by body projection. I time travel in my dreams. Anybody can do that when they learn how to relax and invite loving spirits every night to come into their dreams."
"They take me in my dreams to where I need to be to see what my purpose in life is and by understanding all that I can."
He added, "Dreams are a great place to discover that... They have songs they sing that you can't understand but you can dance to them and pretty soon you're singing the words... and you are becoming a hobbit. And when you become a hobbit on earth you'll be able to do everything you want to do."
Some Suprising Secrets About Sleep
New studies show that a good night's sleep is vital for memory, learning and brain function.
Studies have shown that REM sleep is also necessary for forming "muscle memory" that lets us button our shirts, ride a bike or drive a car.
A recent study also found that foods with vitamin B6 (like Marmite) are more likely to give you vivid dreams than blue cheese. (The vitamin converts amino acids into the brain chemical, serotonin, which may be involved in dreams.)
B6 can be found in such foods as avocados, Marmite, broad beans, bananas, molasses, salmon and herring.
ALSO:
A lack of sleep can make you hungry, because the "fullness" hormone called "leptin" may be up to a third lower than healthy sleepers if you don't get enough rest.
Would You Have A Pet Deer?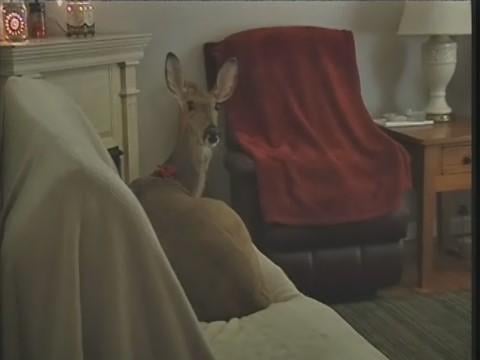 Officials in Michigan decided that they will let a family keep their domesticated deer named Lilly.
The family made an agreement with the Michigan Department of Resources that will let Lilly stay. Lilly had already spent the past five years with the family after her mother was killed by a car.
The Department Of Resources had ordered the family to give her up because of a state law that makes it illegal to keep deer as pets. But after some consideration, they changed their minds because it is the "best possible outcome for Lilly's continued health and survival."
For The Person Who Has Everything?
Pieces of clothing once owned by Monica Lewinsky -- including a black negligee and several hand-signed letters by President Clinton-- are up for auction.
An auction house is currently selling the lot of 32 items online and the bidding will end later this week.
Each item was originally given to Lewinsky by her former high school teacher with whom she had a five-year affair . It became evidence in the Kenneth Starr investigation to impeach President Clinton.
Video Of The Day:
Today's video is great.. I would react the same way.. I hate spiders! Check out this reporter who gets freaked out by a spider.
---
---
---

I have been on the air in Siouxland since 1999. Started here on KG95 in 1999, moved to Z98 in 2002 and then back to KG in 2012. I love what I do, it's not many people who can say that. Proud to literally been living the dream for almost 20 years.