Random Blogging For Tuesday January 7th
Good morning! Happy Tuesday! Here's what you missed on today's show.
The Morning Brain Buster:
Q. Close to 12,000 trips to the Emergency Room happen every year in the US from doing this. What?
A. Shoveling Snow!
Bonehead Of The Day:
Two families at a Chuck E. Cheese's in Florida got into a brawl after their children began arguing over tickets.
A witness said the two families had about 10-15 people on each side fighting.
The families threw food and drinks at each other. Anything that wasn't bolted to the ground was used in the fight.
One of the family members used pepper spray which affected everyone in the restaurant.
Most of the people involved in the fight left before the cops arrived so no arrests were made.
The restaurant kicked everyone out who was involved in the fight.
Pilot Who Landed On The Express Way Is A Hero.. But Not To his Wife
To you, the man that was able to navigate his plane to an emergency landing on the Bronx expressway may be a hero, but to his wife he's a real jerk.
The fifty-year-old student pilot had to make the dramatic, emergency landing when his plane was no longer working properly and he was having engine troubles. The problem was that he was giving two women a tour of the statue of liberty - without his wife's knowledge.
In fact his wife had no idea her husband was out in the plane with two women until she heard about the emergency landing, after the fact. Needless to say she was not impressed.
Those who witnessed the landing were impressed, though. After working with air traffic control to make an emergency landing, the man was able to land on the expressway without damage to any cars and with little damage to the plane itself.
The Invincible Phone?
Caterpillar is known for its rugged machinery but now they created an invincible cellphone.
The Cat B100 handset has been designed to withstand almost any condition.
It can withstand cold and hot temperatures, can be in water for up to 30-minutes and survive close to a six foot drop.
It also has a talk-time of up to 10-hours and can be on standby for up to 23-days using a single charge.
Because We're Not Fat Enough.. A 3000 Calorie Burger
Folks in Kansas are heading to a local hamburger chain called Spangles which ntroduced a new 3,000-calorie burger named "The Beast."
The Beast features six one-third-pound steak burger patties,12 slices of American cheese, mustard, ketchup, onions and pickles. It costs $21.99.
The burger was supposed to be a limited-time offering, but The Beast will continue to be sold for as long as customers buy it.
** By the way, if the dozen pieces of cheese and two pounds of steak burgers aren't enough, customers can turn the burger into a value meal with fries and a drink for $24.99.
The Solar Powered Car.. Can Recharge It's Batteries Without Being Plugged in
Ford has unveiled a new hybrid car with a roof covered in solar panels.
The C-Max Solar Energi is the first sun-powered hybrid vehicle that does not depend on electricity for fuel.
But these panels alone do not generate enough energy to power a car for a day. The car also comes with a conventional hybrid system for when the sun isn't shining.
Birthdays:
~~Actor, Nicolas Cage is 50 (Valley Girl, Moonstruck, Guarding Tess, Leaving Las Vegas; chose Cage from a comic book hero Luke Cage, The Rock, Con Air, Face/Off, City of Angels, 8MM, Bringing Out the Dead, Gone in 60 Seconds, The Family Man, Windtalkers, Adaptation, Matchstick Men, National Treasure, Lord of War, The Weather Man, The Ant Bully, Ghostrider, Next, National Treasure Book of Secrets; The Frozen Ground; more)
~~Actor, Jeremy Renner is 43 (The Hurt Locker; The Avengers; The Bourne Legacy; Mission: Impossible - Ghost Protocol)
~~TV personality Katie Couric is 57.
~~Actor David Caruso is 58 (CSI: Miami)
~~Actor Dustin Diamond ("Screech" from "Saved by the Bell") is 37.
~~Actress Lauren Cohen is 32. (The Walking Dead; The Vampire Diaries)
~~Actor Liam Aiken is 24 (Road to Perdition; Lemony Snicket's A Series of Unfortunate Events)
~~Actress Lyndsy Fonseca ("Kick-Ass") is 27 (The Young and the Restless; Nikita)
~~Actor, Steven Williams is 65 (21 Jump Street's Capt. Adam Fuller)
~~Actress, Erin Gray is 64 (Silver Spoons; Buck Rogers in the 25th Century; Jason Goes to Hell: The Final Friday)
~~Actor, Sammo Hung Kam-Bo is 62 (Enter the Dragon, Shanghai Express)
~~Actress, Linda Kozlowski is 56 (Crocodile Dundee movies; ex-wife of Paul Hogan)
~~Actress, Hallie Todd is 52 (The Lizzie McGuire Movie/TV series)
~~Actor-rapper Doug E. Doug is 44. (Cool Runnings)
~~Formula 1 race car driver Lewis Hamilton is 29
~~MLB pitcher Jon Lester is 30
~~MLB star Alfonso Soriano is 38



MUSICALLY:



~~Singer Kenny Loggins is 66.
~~Singer John Ondrasik (of Five for Fighting) is 49.
~~Musician, Paul Revere is 76 (Leader and organist of Paul Revere & The Raiders)
~~Musician, Kathy Valentine (of The Go-Go's) is 55
~~Mexican singer Juan Gabriel is 64
~~Singer-songwriter Marshall Chapman is 65.
~~Country singer John Rich (of Big and Rich) is 40.
~~Country singer-songwriter David Lee Murphy is 55.
New On DVD This Week:
Runner Runner (-R-)
Stars Ben Affleck, Justin Timberlake

Thanks for Sharing (-R-)
Stars Mark Ruffalo, Gwyneth Paltrow

Closed Circuit (-R-)
Stars Eric Bana, Rebecca Hall

I'm So Excited! (-R-)
Stars Hugo Silva, Antonio De La Torre

Tiger Eyes (PG-13)
Stars Willa Holland, Amy Jo Johnson

We Are What We Are (-R-)
Stars Bill Sage, Ambyr Childers



TV on DVD:

Archer: The Complete Fourth Season
Duck Dynasty: Season 4
The Following: The Complete First Season
House of Lies: The Second Season
The Eurythmics Are Reuniting For A Beatles Tribute Show, Other Big Artists On The Bill
The Eurythmics are reuniting to pay tribute to the Beatles.
Annie Lennox and Dave Stewart will perform for "The Night That Changed America: A Grammy Salute to the Beatles." The event will be taped in Los Angeles on January 27th, a day after the Grammy Awards.
Longtime Grammys producer Ken Ehrlich is also producing the Beatles special.
He thought the Eurythmics would be ideal to honor the iconic group.
Ehrlich said: "When it came around to booking this show, what I felt was important was to try and find those artists who not only would be able to interpret Beatles songs, but would also have an understanding of what they meant."
Ehrlich wouldn't say which Beatles song the duo will perform, but he did say John Mayer and Keith Urban will pair up to perform "Don't Let Me Down," while Alicia Keys and John Legend will perform a duet on "Let It Be." Maroon 5 also will hit the stage.
Ehrlich wouldn't confirm if Paul McCartney or Ringo Starr would attend the event, but the Beatles will be honored with a lifetime achievement award two days earlier at the Recording Academy's Special Merit Awards in Los Angeles.
More performers will be announced soon. The special will air on CBS February 9th, exactly 50 years after the Beatles made their U.S. debut on "The Ed Sullivan Show." 73 million people tuned in to watch.
Brush & Surf.. An Internet Connected Toothbrush
A new toothbrush that's connected to the Internet debuted at the Consumer Electronics Show in Las Vegas.
The Kolibree toothbrush includes a sensor which detects how much tartar is being removed in a brushing.
It also records brushing activity so users can maintain a consistent cleaning each time.
It then conveys the information wirelessly to a smartphone app so users can see what they are doing right or wrong when it comes to brushing.
Finally!! A Self Cleaning Plate!
Researchers are on the verge of a breakthrough that could make it possible to never have to do the dishes again.
It's a plate and bowl set that has a special "self-cleaning" coating that makes it repel dirt and liquids.
The Swedish designers of the futuristic dishes used natural material called "nanocellulose" to develop their invention.
The material is not only lightweight and easy to mold, but it's also durable enough to withstand accidental drops.
The surface of the dishes is considered super-hydrophobic and it repels liquids and causes water to bead off.
This Pill Could Turn You Into A Singer
Researchers are developing a pill that is not only a mood-stabilizer - it causes our brain to take in new information and learn in the same way it did when we were kids.
Testing has shown that adults can take this pill and learn perfect vocal pitch in a way that they otherwise would never be able to.
Along with making our shower singing more beautiful the pill would work in learning other skills - like speaking a different language.
6 Ways Not To Name Your Baby
Picking a baby's name is easily one of the hardest things most expectant parents do and while there is no wrong name, there are definitely wrong ways to choose them.
Here are six ways no one should choose their baby names:
1.) From a stripper: Your child will have resumes to send out some day and she will want to be respectable.
2.) Out of a name book: This just seems kind of boring. If you ARE going to go with a name book, at least make it a themed one that can tie the baby to their culture or heritage.
3.) Make one up: Sure, there are some beautiful made up names, but they usually just sound silly and wrong.
4.) Anything commercial (think Tide or Pepsi): It's wrong. It's cruel. It's not going to make you rich. Just tacky.
5.) Selling it on eBay: To any parent even thinking about this one, think again. Anyone who would buy those rights PROBABLY doesn't have your child's best interests at heart.
6.) Family pressure: If you like the name, grab it and run, but if not, don't end up hating your kid's name 10 years from now.
17 Things You Swore You Would Never Say When You Have Kids
1. "Don't make me turn this car around!"
Your parents never turned the car around, and neither will you so don't bother saying this one.
2. "If you don't stop it your face is going to freeze that way!"
Now we all know this isn't true.
3. "If all of your friends jumped off a cliff, would you, too?
Did we somehow forget how annoying it was to hear jumping off a cliff being compared to wanting to go the mall with your friends?
4. "What part of 'no' don't you understand?"
We still don't know how many parts of "no" there are, but we say it anyway.
5. "Because I said so."
We promised ourselves we'd never give this half-assed answer, but that was before all of the "whys." So many "whys."
6. "As long as you live under my roof, you'll do as I say!"
Remember how hard you rolled your eyes when your Dad said this? That's how hard our kids are rolling theirs.
7. "When I was your age we didn't have all these crazy toys."
Once you say this it won't be long before you're talking about walking to school in the snow uphill both ways.
8. "How many times do I have to tell you?"
We put the emphasis on "times" just like our parents did, too.
9. "Close the door. You weren't raised in a barn!"
Don't most barns have doors?
10. "I have had it up to here with you!"
Had what up to where? Does anyone even know?
11. "Just wait until your father/mother gets home."
I wonder if when our parents said this they really meant they were over it. Because that's what we mean.
12. "I hope someday you have children just like you."
This is a pretty passive aggressive thing to say to a kid, and yet here we are.
13. "There are starving children in China!"
Really? After all this time we couldn't think of a better way to get our kids to finish their food.
14. "Do as I say, not as I do."
We know this is B.S. as much as our parents did, but it's a lot easier to say than to change ourselves for the better.
15. "I brought you into this world, and I can take you out of it!"
"Sure, you will," says your kid (which sounds eerily familiar, because you retorted the same thing when you were their age).
16. "I will give you something to cry about!"
"Ha, ha, ha!" — your parents overhearing you say all of this stuff.
17. "Some day, when you're older, you'll understand."
And if they don't, well, they'll probably have forgotten all about it by then.
Woman Receives Poo Cake At Engagement Party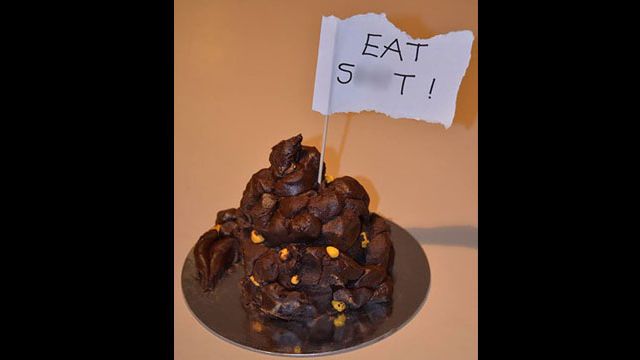 A (New Zealand) woman got a very special cake for her engagement party after her sister had a disagreement with the bakery owner.
Underneath "magnificent wrapping" was an excrement/poo-shaped cake with a flag sticking out of it that read "eat s—t".
The cake was opened in front of more than 100 guests who couldn't believe what they saw.
Oddly enough, the cake maker seems to be enjoying her newfound fame, and posting media coverage of her poo cake on her Facebook page.
She wrote, "Nothing really negative that I've seen apart from a few who didn't read and understand it properly. Seems to be popping up everywhere . . . business opportunities have been thrown my way as well."
Video Of The Day:
This Guy could also fall into the heading of bonehead of the day.. What an idiot. Enjoy stupidty at its finest.

I have been on the air in Siouxland since 1999. Started here on KG95 in 1999, moved to Z98 in 2002 and then back to KG in 2012. I love what I do, it's not many people who can say that. Proud to literally been living the dream for almost 20 years.