Random Blogging For Tuesday August 12th
Good Morning.. Actually.. a pretty sad day really. Hard to believe the news that Robin Williams is dead. I've been a fan since Mork & Mindy.. The guy was amazingly funny, witty, and super quick.. I always knew he was battling demons, it's just sad to see that the demons won. Thank you for your amazing work, you truly made me laugh more than almost anybody. The world will miss your smile and your wit and your comedic genius. R.I.P.
The Morning Brain Buster:
Q: 89% of people have never used these. What are they?
A: Frequent flyer miles.
Bonehead Of The Day:
SPRINGFIELD, Fla., Aug. 11 (UPI) -- A 12-year-old Florida boy who stole school buses on two separate occasions earlier this summer is allegedly up to his old tricks.
Michael Propst is facing another charge of grand theft auto after allegedly swiping a pickup truck from a neighbor after first unsuccessfully attempting to steal a go-kart.
Propst had just completed serving 21 days in juvenile detention, his second stint this summer.
"Juvenile Justice called and told me 'In case you're not aware, he's on the loose again,'" Springfield Police Chief Philip Thorne told WJHG.
Authorities were able to use Facebook to determine that Propst was driving to meet a friend in Dothan.
Jackson County Sheriff's Deputies arrested Propst while he was cruising toward the Alabama state line.
According to Thorne, Propst also admitted to trying to steal his mother's car.
"When he's facing something he doesn't like, he lashes out by running and stealing things," Thorne said of Propst. "We've tried asking him to see if there's something, and I would hope and assume that somebody at DJJ, while he's been incarcerated, would have tried to counsel him, but apparently he's not ready to open up to whatever his issues are and seek help or seek change."
Death At Your Door?
Before buying a home, you check for mold, make sure the foundation's solid, even roam the neighborhood to make sure it's safe, but do you ever think about the people who lived, or even died, in the home you're about to buy?
While Billy Crystal may have joked in "When Harry Met Sally" that it's easy to find a place in New York City by just checking out the obituaries, some people may not be too happy to find out their home's previous owner died, especially if they did it in their actual home. Well now a new website will prevent you from ever worrying about that again.
Diedinhouse.com provides a national database of homes and apartments in which tenants kicked the bucket on site. The website, the only service of its kind in the U.S., claims to have analyzed more than 118 million public and private records in order to provide realtors with information about any possible deaths that occurred in a property.
In addition to just the creepy factor, it could be helpful if you're one of those people worried about ghosts of the departed haunting your home. "Ghost stories can be like fishing stories, they can be exaggerated. We're trying to avoid that," said the website's founder and president Roy Condrey.
And of course, let's not forget the financial factor. Potential buyers may be concerned that a home's macabre history could cause it to decrease in value. "It can depreciate the value of the home by 25% or more. Or take 50% or longer to sell," noted Condrey. "That's not something someone typically thinks of when they buy a house." Yeah, because it's too depressing.
Source: New York Daily News
Radio Station In Canada Cutting Songs In Half For Shorter Attention Spans
If you have the attention span one Canadian radio station thinks you do, you've probably already stopped paying attention. A Top 40 station in Calgary, Canada is cutting song lengths in half because they think our attention spans have shortened.
"We've got so much more choice, we've got less time (and) our attention spans are shorter," Station employee Paul Kaye told CTV Calgary."We are observing people with their iPods, playing their favourite songs and skipping them before the end because they get bored." This so called "QuickHitz" format is allowing the station to play 24 songs instead of the regular 12 but not everyone is happy about this switch.
In order to shave down the songs, the station is removing choruses and verses and as Canadian artist Jann Arden says, "it's a hideous concept."
Source: CTV Calgary
Robin Williams Dead At 63
The world got a little less funny yesterday. Comedy icon Robin Williams died at the age of 63. According to "The New York Times," the coroner suspects the death was "a suicide due to asphyxia," which could mean death by hanging but the official autopsy will be done at some point today.
"Robin Williams passed away this morning," said Mara Buxbaum, president of his PR firm. "He has been battling severe depression of late. This is a tragic and sudden loss. The family respectfully asks for their privacy as they grieve during this very difficult time." His wife, Susan Schneider, did release her own statement. "This morning, I lost my husband and my best friend, while the world lost one of its most beloved artists and beautiful human beings. I am utterly heartbroken," she said.
She is not alone. Williams death affected everyone right up to the President. "Robin Williams was an airman, a doctor, a genie, a nanny, a president, a professor, a bangarang Peter Pan, and everything in between," President Obama said in a statement. "But he was one of a kind. He arrived in our lives as an alien – but he ended up touching every element of the human spirit. He made us laugh. He made us cry. He gave his immeasurable talent freely and generously to those who needed it most – from our troops stationed abroad to the marginalized on our own streets. The Obama family offers our condolences to Robin's family, his friends, and everyone who found their voice and their verse thanks to Robin Williams."
Williams was born and raised outside of Detroit in Bloomfield Hills, but moved to New York City to attend the Julliard School before his breakout role in 1978 in the TV show "Mork & Mindy." What followed was an impressive career that included TV, stand up comedy, movies, and the stage. He was nominated for an Academy Award for his roles in "Good Morning Vietnam," "Dead Poets Society," and "The Fisher King" but it was his 1998 role as a therapist in "Good Will Hunting" that won his a Best Supporting Actor Oscar. He also did his fair share of family movies. "Jumanji," "Flubber," and "Aladdin," in which he played the genie, have becoming childhood staples.
His career also was peppered with philanthropic events. From the "Comedic Relief" events he starred in with Whoopi Goldberg and Billy Crystal to his more recent trips to perform for troops overseas, Williams took his commitment to others seriously. For that, and for his varied and impressive career, Robin Williams most certainly will be missed. He leaves behind a wife and three children.
As always, people are taking to Twitter to express their sadness and send their condolences. This time, however, it seems just about everyone is tweeting something kind about Williams. Check out some of the heartbreaking farewells from celebs: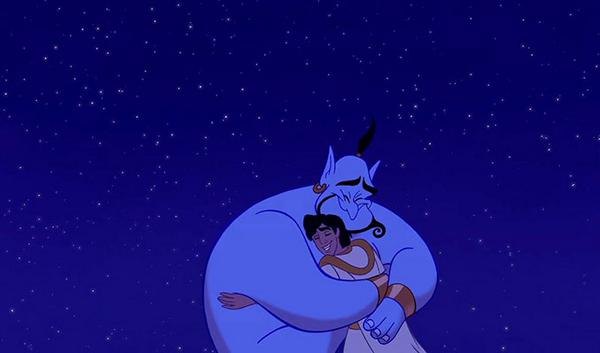 R.I.P. Robin
Video Of The Day:

I have been on the air in Siouxland since 1999. Started here on KG95 in 1999, moved to Z98 in 2002 and then back to KG in 2012. I love what I do, it's not many people who can say that. Proud to literally been living the dream for almost 20 years.