Random Blogging For Thursday June 5th
Good Morning! Happy Thursday! Hope everybody has a great day. Here's what you missed on today's show.
The Morning Brain Buster:
Q. On Average, US School Districts will spend over $10 Million dollars on this every school year. What?
A. Substitute Teachers!
Bonehead Of The Day:
Bozo criminal for today comes from Knoxville, Tennessee, where bozo Michael Harper was afraid that he was going to be in trouble with his mother. And, not wanting to face a mother's scorn, he did what any bozo would do. He called the cops and told them he was manufacturing methamphetamine and would they please come arrest him. When they asked why, our bozo told the cops that his mother was going to be mad at him because of another problem and he didn't want to face her. The cops arrived and searched the home, finding no meth, manufactruing materials or other drug paraphenalia. He was arrested anyway, for making a false report. No response yet from Mom.
http://www.electricferret.com/bozo/
Catfish Allegedly Used As Weapon During Fish Slapping Incident
Texas police are still investigating to see if they can hook anyone with charges after an alleged fish-slapping incident over the weekend.

During the incident in Lufkin, a woman supposedly slapped her sister-in-law in the face face with a dead catfish.

Officers from the Lufkin Police Department responded after receiving a call about a domestic disturbance early Sunday morning.

"The argument allegedly started because a female put a catfish in her sister-in-law's face," Sgt. Mike Shurley said, according to KTRE. "An argument then ensued between the woman and her brother, which turned physical. According to the brother, his sister slapped his wife in the face with the fish, and he told her to leave, and eventually she did."

All three people who were involved gave statements to police.

According to Shurley, the woman told police that her brother had been beating his wife, a claim that he denied.

The man at the scene was arrested on an outstanding warrant, KETK reported. No other arrests were made and no charges have been filed involving the catfish at this time.

"Due to lack of independent witnesses and conflicting stories, the case has been forwarded to the Criminal Investigation Department for further investigation," Shurley said.
http://richthedj.blogspot.com/
Now This Is A Fishing Story!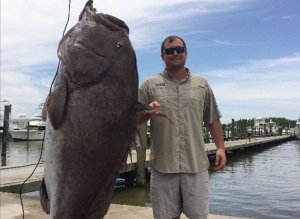 Groupies, behold: This man's grouper catch is one for the record books.

Houston man Cullen Greer, 28, caught a 6-foot, 297-pound Warsaw grouper last month off the coast of Louisiana, according to KETK. It's being dubbed the largest grouper hauled in with a hand crank in state history.

Greer was on an overnight fishing trip with colleagues when a 30-minute battle began with what he first thought was a snag.

"I told the captain, 'I think I'm stuck,'" he told My Fox Tampa. "He put a couple of cranks on it and said, 'Yeah, that's a fish.'"

Greer was fishing about 35 miles from the end of the Mississippi Delta, using live tuna bait.
http://richthedj.blogspot.com/
Bonehead #2
ST. AUGUSTINE, Fla. —A fake police officer is accused of signaling a real officer to pull over on a road in St. Johns County.

Authorities say 20-year-old Matthew Michael Lee McMahon activated a red and blue light Monday while driving behind an unmarked county sheriff's car. Detective Chance Anderson pulled over and was shocked to see an unknown face behind the wheel of the other car.

First Coast News reports that during his more than 10 years of service, the detective has arrested several police impersonators. But none of them had ever ordered him to stop his car. The real officer arrested the fake officer on the spot.
http://richthedj.blogspot.com/
German Museum Shows Live Replica Of Van Gogh's Ear
A German museum has put on display a copy of Vincent van Gogh's ear that was grown using genetic material provided by one of the 19th-century Dutch artist's living relatives.

The Center for Art and Media in Karlsruhe said artist Diemut Strebe made the replica using living cells from Lieuwe van Gogh, the great-great-grandson of Vincent's brother Theo.

Using a 3D-printer, the cells were shaped to resemble the ear that Vincent van Gogh is said to have cut off during a psychotic episode in 1888.

"I use science basically like a type of brush, like Vincent used paint," Strebe told The Associated Press in a telephone interview Tuesday.

The U.S.-based artist said the ear, which was grown at Boston's Brigham and Women's Hospital, is being kept alive inside a case containing a nourishing liquid and could theoretically last for years.
http://richthedj.blogspot.com/
Bonehead #3
Sprinkles are not an emergency: It's nice to know there are dumb people in England, too. An unidentified woman across the pond called 999, their version of 911, to complain about her ice cream cone, and the placement of the sprinkles on it. "It doesn't seem like much of an emergency but it is a little bit because I've ordered an ice cream and he's put bits on one side and none of the other," she told the operator. "He's refusing to give me my money back and saying that I've got to take it like that."

Bonehead #4
You do realize why he has a prosthetic leg, right?: Adam Popp, a decorated Afghanistan veteran, has had a prosthetic leg since 2007, when he was hit by an improvised explosive device. This was a problem for Alaska Airlines, who forced him to move from the exit row because they didn't think he would be able to perform the assigned duties. A flight attendant even threatened to get security to remove him from the plane if he didn't change seats. Fun fact, Popp was on his way back from a 94-mile adventure race with other wounded veterans. Fun fact number two, this all happened on Memorial Day.
Birthdays:
Actors:
Mark Wahlberg ("The Departed," "Renaissance Man," "Entourage," "Ted") – 43
Jeff Garlin ("Curb Your Enthusiasm," "The Goldbergs") – 52
Nick Kroll ("The League," "Kroll Show") – 36
Sophie Lowe ("Once Upon a Time in Wonderland") – 24
Liza Weil ("Gilmore Girls," "How To Get Away With Murder")– 37
The late Spaulding Gray (1941-2004) …he would have been 73
Musicians:
Fall Out Boy's Pete Wentz – 35
Brian McKnight – 45
Simple Plan's Sebastian Lefebvre – 33 (FUN FACT: He learned to play guitar by watching Green Day videos.)
Kenny G – 57
Laurie Anderson – 67
Sly and the Family Stone's Freddie Stone – 67
Don Reid of The Statler Brothers – 69
Plus:
Nashville Predators' center Mike Fisher (FUN FACT: He's married to Carrie Underwood.) – 34
Author Ken Follett ("Eye of the Needle," "The Key to Rebecca," "Pillars of the Earth," "World Without End," "Whiteout") – 64
TV journalist Bill Moyers (FAST FACT: He also served White House Press Secretary in the Johnson administration from 1965 to 1967) – 80
Financial advisor, motivational speaker and TV personality Suze Orman – 63
The late children's author Richard Scarry ("Busytown," "Best Word Book Ever") (FAST FACTS: After high school, Scarry enrolled in a business college but soon dropped out. He then studied at the School of the Museum of Fine Arts, Boston, where he remained until being drafted into the U.S. Army during World War II. After the war, Scarry worked for the art departments of various magazines before making a career breakthrough in 1949 with Little Golden Books.) (1919-1994) …he would have been 95
The late Mexican war hero Pancho Villa (FAST FACTS: Villa and his supporters seized hacienda land for distribution to peasants and soldiers. He robbed and commandeered trains and, like the other revolutionary generals, printed fiat money to pay for his cause. Villa's men and supporters became known as Villistas during the revolution from 1910 to roughly 1920.) (1878-1923)
Video Of The Day:

I have been on the air in Siouxland since 1999. Started here on KG95 in 1999, moved to Z98 in 2002 and then back to KG in 2012. I love what I do, it's not many people who can say that. Proud to literally been living the dream for almost 20 years.