Random Blogging For Thursday June 26th
1 more day... 1 more day... We can do it! :) Any big plans for your weekend? I'm looking forward to gathering with some friends and enjoying a great time. Hurry up weekend, get here!!! Here's what you missed on today's show.
The Morning Brain Buster:
Q: 73% of people wish they had enough money to do this on a weekly basis.
A: Hire a cleaning person
Bonehead Of The Day:
Our bonehead story today hails from from Troy, Missouri, where the cops were called to Fairgrounds Park on a report of one of the concession stands being broken into. Thanks to our teenage boneheads this investgation turned out to be one of the easiest ever. The first thing the officers noticed was a lot of trash around the concession booth. As they looked closer, they found that the trash was mostly candy wrappers, and that the wrappers formed a trail that led out of the the park. Much like the old story of Hansel and Gretel, all the cops had to do was follow the trail which led them to a nearby apartment. The parent of the juveniles inside allowed the cops to search the apartment, and, sure enough, they found several of the stolen items (or at least the ones that hadn't been eaten). They're busted!
http://www.electricferret.com/bozo/
Bonehead #2
Officer: Man came to court hiding pot in left sock - Dallas News | myFOXdfw.com: Authorities say a Connecticut man who told his probation officer he wasn't foolish enough to bring drugs into a courthouse had been hiding 19 bags of pot in his left sock.

Darren Shelley had a hearing Monday in Stamford Superior Court on a charge of possession with intent to sell but the case was continued until Aug. 7.

Authorities tell The Advocate the 22-year-old Stamford man reeked of marijuana when he met June 9 with his probation officer.

When the officer asked about it, Shelley allegedly said he was "not a fool" and "did not bring drugs into the court."

But the officer says a pat down revealed the bags of pot.

Shelley was being held on $5,000 bond. He faces a possible revocation of his probation on charges of risk of injury to a minor.
http://richthedj.blogspot.com/
Woman Banned From Zoo For Trying To Feed Lions Cookies
Woman banned from zoo for trying to feed lions cookies - Dallas News | myFOXdfw.com: Memphis Zoo officials have banned a woman who allegedly climbed over a barrier to try to feed the lions cookies.

According to the Associated Press, other zoo patrons reported seeing the woman jump the barrier. She was singing to the animals, they said.

After the barrier, only wire separates guests from the lions inside the enclosure.

Zoo spokeswoman Abbey Dane told Memphis station WMC-TV that the woman's behavior was dangerous for her and the lions.

FOX 13 in Memphis reported the unnamed woman tried something similar last Monday as well.

Security officials saw her tossing food over the barrier so they confronted her, explained the zoo rules on feeding animals and asked to her leave.

After this week's incident she was warned that she would face trespassing charges if she ever returned.
http://richthedj.blogspot.com/
Dog Found Nearly 2 Years After Going Missing In California Forrest
Dog found nearly two years after going missing in California forest | Reuters: A Golden Retriever that got separated from its owners during a camping trip in California's Tahoe National Forest was reunited with its family and doing well after apparently surviving on its own for nearly two years in the wilderness, the family said.

Erin and Nathan Braun were on a camping trip in October 2012 when the dog, named Murphy, went missing, according to the Los Angeles Times. The couple posted fliers and created a Facebook page about the disappearance to no avail.

Twenty months later, a camper at the French Meadows Reservoir, not more than five miles (eight km) from where the Brauns lost Murphy, spotted the pet and alerted the family, according to a Facebook post written by the couple earlier this month.

After several unsuccessful days of trying to track the dog down, the Brauns decided to leave her bed and several items of their own clothing with the camper, hoping Murphy would pick up their scent and return to the area.

It worked, and a week later the Brauns were notified that the camper had coaxed Murphy onto a leash after finding her sleeping on the clothing left for her. Murphy was reunited with her family in mid-June.
http://richthedj.blogspot.com/
Real Krusty Crab Being Built!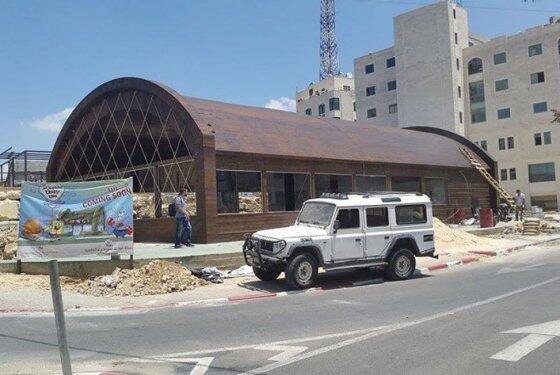 Have you always wanted to taste the Krusty Krab's special sauce? Now you can. International Business Times is reporting the Krusty Krab, the restaurant from "Spongebob Squarepants," is going from cartoon to real life.
Don't get too excited, Spongebob fans. The restaurant is currently being build in Ramallah, on the West Bank in Palestine. As of now, the opening date hasn't been announced. If you're that desperate to get involved, the Facebook page for the restaurant says they're looking for cooks, cashiers, cleaners, and security guards.
Birthdays:
Actors:
Robert Davi ("The Goonies," "Die Hard," "Showgirls," "Licence To Kill") – 61
Sean Hayes ("Will & Grace," "Sean Saves The World") (FAST FACT: He saved a man's life in 2001 after he had been shot and robbed. He never sought publicity for the act of kindness – he was outed by the victim.)– 44
Matt Letscher ("Good Morning, Miami") 33,
Jeanette McCurdy ("iCarly," "Sam & Cat") – 22
Mark McKinney ("Kids in the Hall") 41,
Chris O'Donnell ("Batman Forever," "Grey's Anatomy," "Vertical Limit") – 44
Jason Schwartzman ("Rushmore," "I Heart Huckabees," "Scott Pilgrim vs. the World," Moonrise Kingdom") (FAST FACT: His uncle is the famous director Francis Coppola) – 33
The late Peter Lorre ("Casablanca," "The Maltese Falcon," "M") (1904 – 1964)
Musicians:
The 5th Dimension's Billy Davis, Jr. – 76
Ariana Grande – 21
Chris Isaak – 58
The Clash's Mick Jones – 59
Patty Smyth – 57
One Republic's Ryan Tedder – 36
Gretchen Wilson – 41
Plus:
New York Yankees shortstop Derek Jeter – 39.
Ex-con and New York Jet Michael Vick – 34
The late Pulitzer Prize-winning author Pearl S. Buck ("The Good Earth") (FAST FACT: In 1938, she became the first woman to win a Nobel Prize in Literature) (1892 – 1973)
The late war hero Abner Doubleday (U.S. Army officer and American Civil War Union general who fired the first shot in the Civil War's first battle) (FAST FACT: He has often been inaccurately credited with inventing baseball) (1819 – 1893)
Video Of The Day:

I have been on the air in Siouxland since 1999. Started here on KG95 in 1999, moved to Z98 in 2002 and then back to KG in 2012. I love what I do, it's not many people who can say that. Proud to literally been living the dream for almost 20 years.