Random Blogging For Monday July 28th
Helloooo.. How was your weekend? Hope it was great.. Here's to a quick Monday.. Here's what you missed on today's show.
The Morning Brain Buster:
Q. In the first year of a baby's life this will happen nearly 800 times. What?
A. A baby will have their picture taken nearly 800 times by the time they turn one!
Bonehead Of The Day:
Our Bonehead of the day today, John David Martinez didn't even make police work for it. The 68-year-old held up a Wells Fargo branch in Denver wearing a shirt that had his full name on it. In case that wasn't a big enough clue, Martinez also drove his own car to the robbery, so police tracked down his license plate. He was booked into jail on investigation of felony robbery involving $20,000 or more.
Three Year Old Crashes Jeep, Then Goes & Watches Cartoons
A three-year-old in Oregon might be the youngest to get behind the wheel. KPTV is reporting the little guy was being watched by his relative, 22-year-old Brennan Pennington, when he managed to get out of the house, into his aunt Amy Mayberry's Jeep, and knock it out of gear.
He ended up riding the car down the street, through an intersection, up over a curb, through a yard and into a house. According to the site, the toddler then jumped out of the car, wearing only a diaper, and ran back to his house. Police found him watching cartoons like "nothing had happened."
The craziest part? Police say one of their officers saw the little guy in the car without an adult present and found Pennington and told her the three-year-old was in the car by himself. The family says that isn't the case, but either way, they'll have to pay up to the family's whose house they hit and thank their lucky stars that toddler is okay!
Source: KPTV
You Can Buy Furniture That Feels Like Skin
Ever wanted to be a creep without having to commit a crime? Well thanks to British designer Gigi Barker, you can. She has created a line of furniture that feels like human skin, and shaped in squishy blobs. The furniture is actually made of a sort of leather and according to WiredUK the furniture is even made with human pheromones and aftershave. She got the idea for the line from an anonymous muse, who's body she bases the shape on. "I abstract the shapes of his form so as to remove some of the immediacy of such a literal representation and allow the viewer to form their own conclusions," she explained. Those forms are first made in clay, then made into her desired size in silicone. Barker explains the material had the right sensory impact, and on top of that it "reacts to our bodies, matching our body temperature as well -- perfect for soothing a crying baby." Leather is then placed on top of the silicone structure. Not surprisingly Barker's best audience for these pieces has been kids. "Children have been one of the most interesting demographics in relation to the work," Barker, creator of the skin series and founder of design studio 9191, told the site. "Without any of the hang ups we later develop, they are free to truly explore and interact with the work. Work regarding the human body is very personal and we all have a very immediate reaction to it so the reactions have reflected this." The prices are very much for adults, however. The "skin stool" will set you back about $750 and "skin chair" will set you back a little over 2-thousand-550 bucks.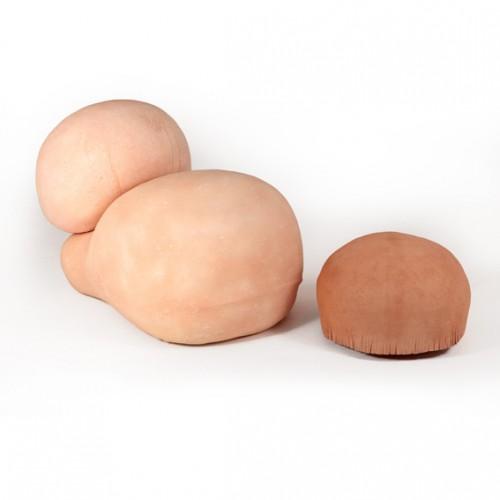 Times Square Spider Man Slugs Cop
If you'd like to see Spider-Man in jail, head down to New York City. The Associated Press is reporting a police officer asked a man dressed as Spider-Man in Times Square for some identification.
Why? Well the costumed man charged a woman $5 for a picture, instead of the usual dollar, then put his hands on her. The man, later identified as 25-year-old Junior Bishop, refused to show ID, so the cop moved to arrest him. Spider-Man apparently did like that and punched the cop in the face.
Bishop was arrested from there while the cop went to the hospital to get checked out. Since this is Times Square and everyone has a camera, there's even footage of the event. Check out the video to the right and be warned there is some extreme language.
Source: Associated Press
Birthdays:
Actors:
Elizabeth Berkley ("Saved by the Bell," "Showgirls") – 42
Peter Cullen (voice actor known for "Transformers Prime" video game) – 73
Georgia Engel ("The Mary Tyler Moore Show," "Open Season")– 66
Nolan Gerard Funk ("Riddick" "X-Men 2") – 28
Michael Hayden ("Murder One" "Charming Billy") – 51
Lori Loughlin ("Full House," "90210") – 50
Sally Struthers ("All in the Family" "Nine to Five") – 67
The late Joe E. Brown ("Some like It Hot" "Show Boat") (FAST FACT: He said he was the only kid to run away from home and join the circus with the blessing of his parents. In 1902, the ten-year-old Brown joined a circus tumbling act called the Five Marvellous Ashtons)(1891-1973)
Musicians:
Afroman – 40
Soulja Boy – 24
Cher Lloyd – 21
Papa Roach's Jacoby Shaddix – 38
The Vamps' Bradley William Simpson – 19
Plus:
"Garfield" cartoonist Jim Davis – 69
The late murder victim and cause-celeb Travis Alexander (he was famously killed by Jodi Arias, who was convicted of first-degree murder. He sustained multiple stab wounds, a slit throat, and a gunshot to the head. She had a TV movie made about her case) (1977-2008) …he would have been 37
The late dictator Hugo Chavez (President of Venezuela from 1999 until his death in 2013) (1954-2013) …he would have been 60
The late Terry Fox (cancer research activist, who despite losing a leg, embarked on a cross-Canada run to raise money and awareness for cancer research. Although the spread of his cancer eventually forced him to end his quest after 143 days and ultimately cost him his life, his efforts resulted in a lasting, worldwide legacy) (1958- 1981) …would have been 56
The late Jacqueline Bouvier Kennedy Onassis (Years after the death of husband/President John F. Kennedy, she married Greek shipping magnate Aristotle Onassis, but reportedly never got over her loss. She is buried next JFK at Arlington National Cemetery) (1929-1994) …would have been 85
The late Beatrix Potter (known for writing the "Tale of Peter Rabbit") (1866-1943)
Video Of The Day:
Baby Elephant vs Cat.. Who's gonna win?

I have been on the air in Siouxland since 1999. Started here on KG95 in 1999, moved to Z98 in 2002 and then back to KG in 2012. I love what I do, it's not many people who can say that. Proud to literally been living the dream for almost 20 years.