Random Blogging For Monday February 3rd
Oh were we are Monday... Please go easy on us, We're still paying for yesterday. Here's what ya missed on today's show.
The Morning Brain Buster:
Q. The average American now eats about 25 pounds of this every year. What?
A. Cheese!
Bonehead Of The Day:
A TV reporter's car wasstolen live on camera while investigating a property scam in Sarasota, FL.
He was following up on a complaint that a rental home wasn't up to code. He set up his camera in front of the house when a woman came up and told him to leave.
She started packing his tripod and equipment up into his TV truck, then hopped in, and drove it a few blocks away.
She came back and told him to go get in his truck and leave.
He called the cops and they came by and arrested her. They could charge her with grand theft auto.
And The Most Popular Breed Of Dog Is...
The American Kennel Club announced last week the Labrador retriever was the country's most popular dog breed for the 23rd straight year.
It's the longest any breed of dog has been on top since the organization was founded in 1884.
The rest of the top 10 breeds were, German Shepards, golden retrievers, beagles, bulldogs, Yorkshire terriers, boxers, poodles, Rottweilers and dachshunds.
The poodle had the previous record for being the top breed with 22 years before the record was broken this year.
The Competitive Eating Mom Returns!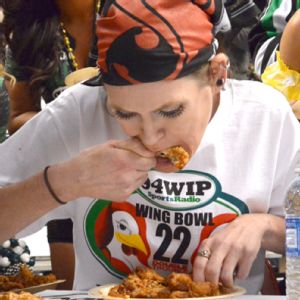 Molly Schuyler, the competitive eating mother of four from Nebraska set a new record at Wing Bowl 22 in Philadelphia when she devoured 363 chicken wings in 30 minutes.
The competition was broken down into three rounds. The first two were 14 minutes each and the third round was a 2-minute all you could eat finish.
Schuyler won $22,000 and plans on using the money for her car payment and to help her kids.
The previous record was set in 2012 by Takeru Kobayashi.
THE NEXT DAY...
Molly Schuyler also at a five pound-sandwich at Jethro's Pork Chop Grill in Iowa in 4 minutes and 50 seconds. Her previous best time was 7 minutes and 8 seconds.
She also took down a pound of waffle fries in under a minute. Schuyler said the sandwich was soft so she tried to swallow most of it.
She became the first woman to take part in the challenge back in 2012.
Politician Introduces Bill To Make The High Five The Official State Greeting
Democratic lawmaker, Courtney Allen Curtis, has introduced a bill to the Missouri House of Representatives that would make the high five the state's official greeting.
The bill, HB 1624, reads: "The high five is friendly, fun, and can lift spirits; and with tensions running high in the Capitol building, the high five might be just what Missouri needs."
He explained, "An official state greeting could help to break up the monotony of the day-to-day work and promote a friendlier environment between both sides of the aisle."
The bill is getting a high five from some Missourians, while others worry that it could spread germs and illnesses.
If the bill does pass, it would take effect on Aug. 28.
Imagine His Suprise.. Man Holding Fortune Didn't Realise It.
A real estate agent in California had something incredibly valuable and didn't even realize it.
Over 30 years ago, the 56-year-old man inherited an odd, silver-colored penny from his father, a former deputy superintendent of the Denver Mint. When he recently moved from Colorado to California, he kept it in his trunk for over a month. Turns out he was sitting on a fortune.
He finally got around to looking into the coin took it to a coin shop, where eh sold it to the store's owner. That's when the shop owner found out the coin was actually a never-before-seen 1974-D aluminum penny from the Denver Mint. Then the shop owner did something very cool. He decided to let the original owner know he hadn't paid nearly enough for what the coin was actually worth and gave it back
The coin will be auctioned in Chicago this April. It could be worth up to $2 million.
The original owner and the coin shop owner have agreed to split the jackpot and on top of that, will donate up to $100,000 to local homeless programs.
This Guy Got Burried On His Harley
An Ohio man who died of lung cancer last week had his wish fulfilled of being buried while sitting on his Harley Davidson motorcycle.
The man could be seen on the bike through a Plexiglass coffin wearing his leather jacket, gloves and helmet.
The man bought three burial plots next to his wife so the coffin would fit. The embalmers used a metal back brace and straps to make sure he would stay upright on his bike.
His sons reinforced the coffin with wood and metal to support the weight.
Birthdays:
~~Actress, Blythe Danner is 71 (Meet the Parents/Fockers films; mother of Gwyneth Paltrow)
~~Actress, Morgan Fairchild is 64 (Dallas, Flamingo Road, Paper Dolls, Falcon Crest, North & South, Roseanne; Chandler's mom on 'Friends')
~~Actress, Isla Fisher is 38 (Rango; Wedding Crashers; Confessions of a Shopaholic; married to Sacha Baron Cohen)
~~Actor Nathan Lane is 58. (The Lion King; The Birdcage; Mousehunt; The Producers; many more)
~~Actress Maura Tierney ("ER," ''NewsRadio") is 49.
~~Actor Matthew Moy is 30. ("2 Broke Girls")
~~Actress Rebel Wilson ("Pitch Perfect") is 28 (Super Fun Night; Bridesmaids)
~~Actor Thomas Calabro ("Melrose Place") is 55.
~~Tallulah Belle Willis (Bruce & Demi's daughter) is 20
~~Actress Michele Greene ("L.A. Law") is 52.
~~Actress, Maitland Ward is 37 (Boy Meets World; White Chicks)
~~Actor, Warwick Davis is 44 (Harry Potter's Professor Filius Flitwick; 'Leprechaun' movies)
~~Comedian Shelley Berman is 89 (Curb Your Enthusiasm; Boston Legal)
~~Former NBA star, Vlade Divac is 46
~~NFL legend/business mogul, Fran Tarkenton is 74
~~NFL legend, Bob Griese is 69


MUSICALLY:

~~Singer Daddy Yankee is 38.
~~Singer/rapper Sean Kingston is 24.
~~Guitarist Dave Davies (of The Kinks) is 67.
~~Guitarist Lee Ranaldo (of Sonic Youth) is 58
~~Musician, Nick Hawkins (Big Audio Dynamite) is 49
~~Singer, Melanie is 67
~~Singer Jessica Harp (The Wreckers) is 32
~~Country Singer, Matraca Berg is 50
~~Singer Dennis Edwards (The Temptations) is 71
Ride Along Tops Box Office For 2nd Straight Week
"Ride Along" topped the box office for the third week in a row.
The Kevin Hart and Ice Cube comedy brought in $12.3 million over the weekend.
Coming in second is Disney's animated blockbuster "Frozen" with $9.3 million and Zak Efron's new dating comedy "Awkward Moment", trailed closely behind with $9 million.
Rounding out the top five is animated movie "The Nut Job" with $7.6 million and true-story war film "Lone Survivor" earning $7.2 million.
21 Ways To Please A Woman..
1.Text her back--She thinks about this way more than (most of) you do.
2. Offer to hold their stuff if it's heavy--Just offer.
3. Be understanding if we're workaholics--Don Draper's got nothing on us.
4. Don't expect us to diet--Being skinnier is not that high on our priority list.
5. Don't expect us to be gym fiends--Aside from your average stress-busting yoga - but it's more for the head, not the body. If we want abs, we'll get them. But not for you.
6. Be cool with the fact that we make more money than you--We can go Dutch!
7. For the love of God, don't expect us to like The Hobbit--IT'S SO BORING.
8. Bring us cookies when we had a crappy day at work.--Storebought or from scratch, either way.
9. Let us watch our Bravo in peace--Better yet, go do something else while we watch. Tease me all you want, but my addiction to Real Housewives of New Jersey doesn't mean I'm not still smarter than you. You know it, I know it.
10. Just say what you are feeling instead of being weird--Use your words like a big boy.
11. Do the dishes--We can take turns.
12. Remember our friends' names, at least the important ones--No, that's not Jessica, that's AMANDA.
13. Be a good cook--There's almost nothing hotter. Especially to a girl who can't cook.
14. Generally do housework when you know it's your turn--It's not hard to Swiffer the floor.
15. Love our pet, even if you secretly hate our pet--Especially if it's a cat.
16. If you're considering whether you need to ask permission to do something (like hang out with an ex), ask permission--She should be cool with it, but it shows that you're considerate of her feelings.
17. Read books--Not just nutritional labels and Men's Health while you're on the treadmill.
18. Don't crash girls nights--No men allowed.
19. Clean up after yourself--Don't leave your underwear on the bathroom floor if you can help it. :)
20. Do the laundry--Fresh warm laundry is a turn-on.
21. Make plans so we don't have to--It's not that hard to figure out a reason to get up and leave the house!
Video Of The Day:
During halftime of the Super Bowl, viewers got to see what Jerry Seinfeld and Jason Alexander were filming when they were spotted at Tom's restaurant: a mini-"Seinfeld" reunion!

It was a promo for Jerry's "Comedians in Cars Getting Coffee" series, and after some usual Seinfeld banter between Jerry and George, their nemesis Newman (Wayne Knight) popped up...

I have been on the air in Siouxland since 1999. Started here on KG95 in 1999, moved to Z98 in 2002 and then back to KG in 2012. I love what I do, it's not many people who can say that. Proud to literally been living the dream for almost 20 years.