Random Blogging For Monday December 23rd
Good Morning! T-2 days and counting! Are you ready? I'm ready for it to be over ha ha.. Hope you are too.. Here's what you missed on today's show.
The Morning Brain Buster:
Q: 35% of people say they do not want THIS for Christmas.
A: Sweaters
Bonehead Of The Day:
Two friends who were called to pick up a drunken driver in Readington, N.J. were both arrested for DUI when they showed up at the station drunk, too.
A 34-year-old woman was pulled over for swerving and ended up failing field sobriety tests. She was taken in for DUI and after being booked she called a friend to pick her up.
When her 23-year-old friend showed up to the station, the cops thought she seemed a little off and they had her do field sobriety tests in the lobby.
She failed and was also booked for DUI.
Both women called a 33-year-old friend who also showed up to the station drunk.
He was booked for DUI, and all three were eventually released to a sober adult.
Insurer Helps Parents Spy On Their Kids Driving
An insurance company has come with a device to help parents spy on their driving kids.
Esurance's DriveSafe program includes a device that installs into the onboard diagnostics port on any vehicle built after 1996 (except hybrids and electric vehicles).
Parents download the program's app: It can track driving habits via Bluetooth and lock out certain functions while the car is moving.
It also can alert parents to risky habits like accelerating too quickly, braking hard, driving past curfew, driving too far from home or speeding.
Birthdays:
~~Actor, Harry Shearer is 70 (The Simpsons' Mr. Charles Montgomery Burns/Waylon Smithers/Ned Flanders/Principal Seymour Skinner/Otto Mann/Rev. Timothy Lovejoy/Dr. Julius Hibbert/Kent Brockman)
~~Actress Susan Lucci ("All My Children") is 67.
~~Actress Estella Warren ("Planet of the Apes" 2001) is 35 (The Cooler; Kangaroo Jack Kangaroo Jack; Driven Driven)
~~Reality 'star', Holly Madison ("The Girls Next Door", "The House Bunny") is 35 (one of Hugh Hefner's exes)
~~Singer/actress/former First Lady of France, Carla Bruni is 46
~~Actor, Stefan Arngrim is 58 (Land of the Giants' Barry Lockridge)
~~Actor Frederic Forrest ("Lonesome Dove") is 77. (Apocalypse Now, Falling Down, The Rose)
~~Actor James Stacy ("Lancer") is 77.
~~Actress Anna Maria Perez de Tagle ("Hannah Montana," ''Camp Rock") is 23.
~~NFL coach Jim Harbaugh (SF 49ers) is 50



MUSICALLY:

~~Singer Eddie Vedder (of Pearl Jam) is 49.
~~Guitarist Dave Murray (of Iron Maiden) is 57.
~~Guitarist Jorma Kaukonen (Jefferson Airplane, Hot Tuna) is 73.
~~Drummer Ron Bushy (of Iron Butterfly) is 72.
~~Rock Musician, Adrian Belew is 64
~~Singer Robbie Dupree is 67 ("Steal Away")
The Hobbit Holds Back Anchorman At Box Office
"The Hobbit: The Desolation of Smaug" came in first place at the box office for the second straight weekend holding off "Anchorman 2: The Legend Continues."
The latest in "The Hobbit" series took in $31.5 million over the weekend to finish in first while the "Anchorman" sequel opened in second with $26.8 million.
Last weekend's number two movie "Frozen" fell to third with $19.2 million.
Top 10 Movies
1. The Hobbit: The Desolation of Smaug: $31.5 million
2. Anchorman 2: The Legend Continues: $26.8 million
3. Frozen: $19.2 million
4. American Hustle: $19.1 million
5. Saving Mr. Banks: $9.3 million
6. The Hunger Games: Catching Fire: $8.75 million
7. Tyler Perry's A Madea Christmas: $8.5 million
8. Walking With Dinosaurs: $7.3 million
9. Dhoom 3: $3.3 million
10. Thor: The Dark World: $1.3 million
(For Those Keeping Score) Women Spend 12 Hours Worrying About Their Looks & 50 Minutes Deciding What To Wear Each Week
According to a new study… the average woman spends almost an entire month a year worrying about her appearance.
Researchers found women spend an average of 12 hours and four minutes a week worrying about their looks, or 627 hours and 28 minutes across the year.
Concerns include being too fat, too thin, too bloated, having spotty skin, pale skin and frizzy hair.
The average female spends 50 minutes a week deciding what to wear, and another one hour and 32 minutes worrying if it looks okay.
5 Shocking Facts About Buying Groceries In The U.S.
1. Groceries in the U.S. are cheaper than anywhere else on the planet--Food has never been cheaper for us. In fact, the cost of food is at a historical low. Plus, it's cheaper in the U.S. than in any other country. We spend 5.5% of our disposable income on food at home. Compare that to the 11.4%, 13.6% and 14.4% spent by the Germans, French, and Italians, respectively. If you were to move to Mexico, Turkey, or Kenya, putting food on the table would cost you 24.1%, 24.5% and 45.9% of your disposable income.
2. Wal-Mart is the nation's largest grocer--Wal-Mart is the world's largest retailer and added "the nation's largest grocer" to its list of titles in 2000. Its first supercenter went up in 1988 and it has put 25-plus supermarket chains out of business. The company claims the average family can save $700 annually on groceries shopping at Wal-Mart. That would work out to be a 27% savings on groceries for the average American. A survey also found that shoppers who don't shop at Wal-Mart save $2,500 a year at other grocers because Wal-Mart's competitive pricing forces them to lower their prices.
3. Brand-name foods are commanding less shelf space in our pantries.--Private label products -- items manufactured by big national food companies and major brands like Conagra and then sold under a retailer's or a generic label – make up 17.4% of food sales for U.S. retailers, accounting for a $90 billion in business in 2012. Sales of private label products have grown 19% over the last year. .
4. The nation's second largest seller of natural food is...—Kroger's CEO told analysts that comparing on sales numbers alone Kroger would be the nation's second largest natural retailer "by a pretty wide margin."
5. There's a science to making you stray from your shopping list--There's a reason why when you walk into any grocery store you'll find flowers and produce are located at the entrance. That's done to signal freshness. Then you're hit by the aromas from the bakery, in-store deli, and coffee shop. Feeling hungrier? Of course you are. That's the plan to make you buy more. Even warehouse like Costco offer in-store sampling and hot dog stands to get you to buy more.
Holiday Help: How To Prevent A Hangover
1. Pre-Game Wisely--Eat a healthy meal beforehand. Make sure it includes fiber and healthy fat that will stay in the stomach longer to help keep you from getting completely smashed like if you went with an empty stomach.
2. Guzzle Water With Your Wine--Alternate a glass of water with every one of wine to help you rehydrate and minimize alcohol's diuretic effects. You'll also likely drink less alcohol since you'll be filling up on water.
3. Bottoms Up--As soon as you get home, drink at least eight ounces of coconut water or Gatorade to replace the electrolytes that were depleted by alcohol.
4. Down Some Aspirin--Take two aspirin with a full glass of water before bed. The prostaglandin inhibitors (fatty acids that help reduce inflammation) in aspirin can decrease the severity of the hangover. Then take two more in the morning with more water.
5. Take Vitamin B--Excess alcohol depletes the body of essential B vitamins, so take a B-50 complex supplement before bed. B vitamins help break down alcohol in the body.
6. Nosh Noodle Soup--Slurping the broth will rehydrate you, and the sodium will help you hold on to the fluid you have left. Plus, the carbohydrates in noodles are an easily digestible source of energy.
7. Exercise--The whole "sweating it out" theory is a myth, but the endorphin release can make you feel better. Plus, you'll feel a little less guilty about all the calories you downed.
Weirdest Tech Gifts Of 2013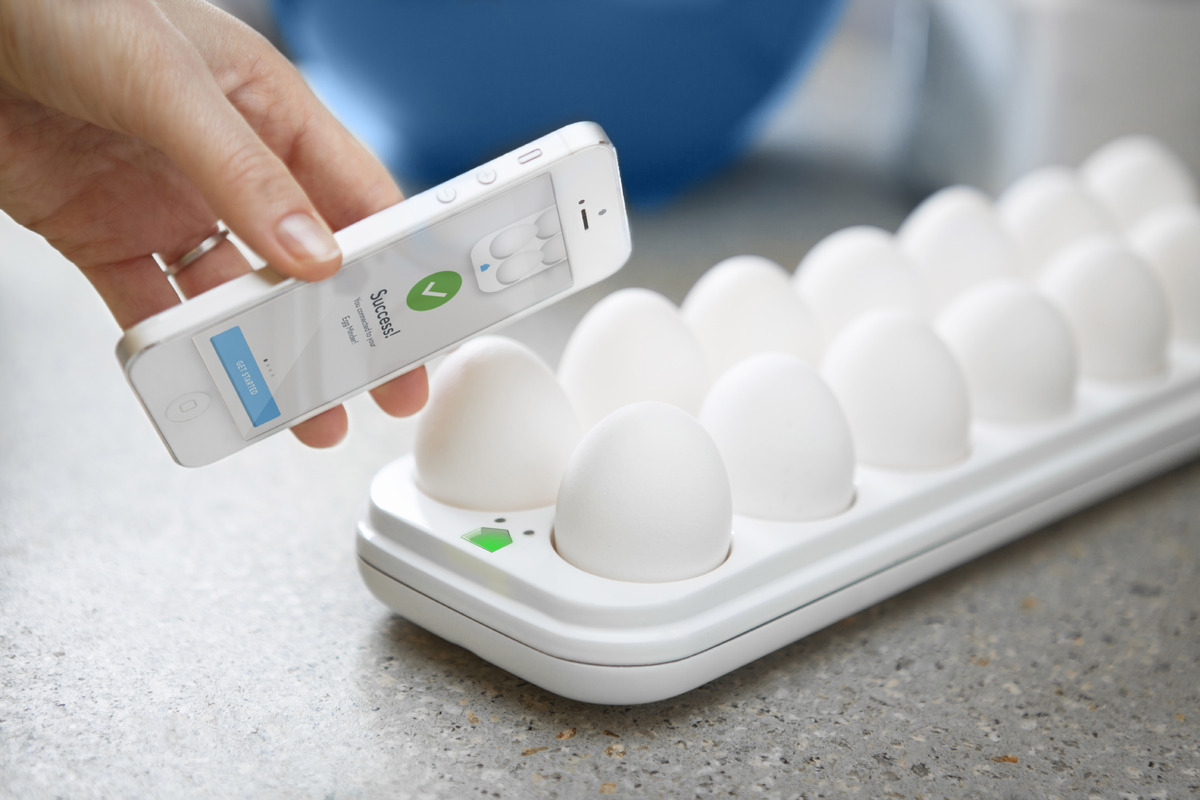 — Call Me Gloves, $80
These winter gloves let you wirelessly connect to your smartphone by making the universal "call me" sign. That is, by holding your thumb to your ear, pointing your pinkie finger toward your mouth and folding the rest of your fingers in to make the shape of a phone. The left glove has a speaker in the thumb and a microphone in the pinkie. Buttons on the glove's cuff let you answer and end calls. There also are conductive fibers woven into the tips of both thumbs and index fingers so you can text and Web surf on a smartphone or tablet without taking the gloves off.
— Egg Minder, $70:
Nobody likes a bad egg. This gadget wirelessly connects to your smartphone to make sure you don't eat one. LED lights show you which eggs in the tray are the oldest and the app's push notifications let you know when you're running low, preventing a last-minute scramble at breakfast time.
— Scout1 Wi-Fi Pet Monitor, $300:
This product, sold exclusively through PetSmart, lets you keep an eye on your pet while you're away. In addition to viewing furry friends remotely, users can pan, tilt and zoom cameras through their smartphone, tablet or desktop computer. There's also two-way audio to allow remote conversations between you and your pet, infrared night vision, temperature monitoring and the ability to take snapshots and record video, just in case Fido does something especially cute.
— Pop Dongle by Pop Secret:
The Pop Dongle is part of an iPhone game created by the popcorn maker. It plugs into your iPhone's earphone jack and when you slather pieces of popcorn with butter in the on-screen game the dongle releases a buttered-popcorn scent.
There's nothing fancy about the game. The scent itself hangs in the air and after a while you can't really tell when the dongle is releasing it. You won't find these in stores. The only dongles available to the public are being auctioned on eBay.
5 Things Guys Don't Want Under The Tree This Year
1. Anything Chia--Nothing is tackier. Whether it's a Chia Obama, Chia Scooby Doo, Chia Mr. T. or this year's Chia Mickey Mouse, when you see one of these things, it's hard to not be upset. If the bald pottery figurines aren't enough, Chia seeds are now trendy and edible!
2. Fathead decals & posters--You probably know from NFL broadcasts about these outsize wall decals with sports stars. But did you know you can now also order large Fathead medical wall decals with titles like "Artery Blockages Labeled" as fun gifts?
3. We wish you a hairy Christmas--Here's a not-so-subtle hint for a middle-aged guy: a copy of Paul Wojnicki's "No Cure for Baldness?" It's just a humor book about one man's funny fight to stay hairy, so don't take it personally. For a more direct approach, visit Amazon and give a copy of "So You're Going Bald: A Man's Guide to the Art of Power Balding."
4. Anything labeled "some assembly required"--This goes without saying. Those three words strike terror in the hearts of males who are mechanical-aptitude-impaired.
5. Anything Duck Dynasty--Especially avoid one item: the new "Redneck Wisdom Party Game." In light of the past week's headlines featuring anti-gay comments by Phil Robertson, this gift of "wisdom" seems inappropriate.
After 15 Years, Mom Ordered To Stop Making Treats For School Kids
A Minnesota woman who has been baking treats for the kids on her childrens' school bus for over 15 years has been ordered to stop after someone complained.
Every Friday she met the bus in her subdivision with a basket of cookies. It started as a thank you to the driver, but she couldn't give the driver a cookie and not the kids.
So it turned into a weekly tradition.
But someone in the neighborhood didn't take to kindly to her good intentions and called the school to complain.
The school called Betty Crocker and told her she'd need to "cease and desist the dispensing of cookies."
She was never given a straight answer as to why, but she says she'll stop.
Video Of The Day:
Pretty good year end review video.. Enjoy!

I have been on the air in Siouxland since 1999. Started here on KG95 in 1999, moved to Z98 in 2002 and then back to KG in 2012. I love what I do, it's not many people who can say that. Proud to literally been living the dream for almost 20 years.