Random Blogging For Friday December 6th
Happy Friday!! Hope you all have a great weekend! Here's what you missed on today's show.
The Morning Brain Buster:
Q. All the numbers found here add up to 666! Where?
A. A Roulette Wheel!
Bonehead Of The Day:
An 18-year-old man has been arrested for stealing parts from the wreckage of Paul Walker's Porsche Carrera.

The Los Angeles Sheriff's Department arrested Jameson Witty at his home in Tujunga, Calif., and that the arrest of a second man is pending.

The two men stole a roof panel off the back of the flat-bed tow truck carrying the wreckage of the Porsche Carrera GT. "Fast and the Furious" star Paul Walker and his friend, Roger Rodas, were killed in a fiery crash.

Witty was booked, with bail set at $20,000.


TMZ
Source 2
BONUS: He BRAGGED About It... ONLINE
Media outlets found pictures of the stolen car part posted Sunday to Instagram by Witty.
How Lazy Have We Become?.. Christmas Dinner in A Can?
You can now consume an entire 9 course, Christmas Day feast, in a single can.
Called 'Christmas Tinner' the can of food contains 9 individual layers for each course of your meal - from bacon and eggs to your pudding dessert. Apparently some people can't pry themselves away from their video games long enough to consume a meal like a normal person.
The nine layers are, in order from top to bottom: scrambled eggs and bacon, two mince pies, turkey and potatoes, gravy, bread sauce, cranberry sauce, brussels sprouts with stuffing, roast carrots and parsnips, and finally Christmas pudding.
An Airbag For Your Cellphone
Honda has created an airbag for your cellphone so when you drop it, it doesn't break.
The Japanese automaker made a smartphone case with built-in airbags designed to prevent costly accidents.
The case is called Case N and it acts like a protective shell. If the phone is dropped, six airbags immediately deploy.
Right now the case is just a concept and Honda has no plans to sell it... yet.
Birthdays:
~~Director Judd Apatow ("The 40-Year-Old Virgin," "Knocked Up") is 46 (Bridesmaids; many more)
~~ Actress Janine Turner ("Strong Medicine," "Northern Exposure") is 51 (Cliffhanger; Friday Night Lights)
~~Actress, Lindsay Price is 37 (All My Children, Bold & The Beautiful, Bev Hills 90210; Lipstick Jungle; Eastwick)
~~Michael Jackson's ex-'wife', Debbie Rowe is 55
~~New York Gov. Andrew Cuomo is 56
~~Actor Tom Hulce (Amadeus) is 60 (Animal House; Frankenstein 1994)
~~Actor, James Naughton is 68 (The Devil Wears Prada; Gossip Girl's William van der Bilt/Trip)
~~Actress, JoBeth Williams is 65 (mom in Poltergeist movies; Kramer vs. Kramer; Private Practice)
~~Comedian, Steven Wright is 58

MUSICALLY:

~~Guitarist Peter Buck (of R.E.M.) is 57
In Theaters This Weekend:
Out of the Furnace (-R-)
Man takes matters into his own hands, putting his life on the line to seek justice for his brother, an Iraq vet who is lured into one of the most ruthless crime rings in the Northeast and mysteriously disappears. Stars Christian Bale, Zoe Saldana, Casey Affleck, Sam Shepard. (PROJECTION: $6-$8 MIL.)



"The Hunger Games: Catching Fire" and animated pic "Frozen" are projected to rule the weekend box office
27.. The Age We Start To Value Our Parents
Research shows we only fully appreciate our parents when we turn 27.
A study into how children feel about their family shows that after arguing/fighting with mom & dad through our teenage years, it takes almost a decade to come to respect our parents.
The survey of 2,000 families found that the main reason people are thankful for their parents is by looking at how other people were brought up in comparison.
And in hindsight, people said they should have shown their parents more respect as they were growing up.
How people appreciate their parents depends on their gender,.
As adults, twice as many women than men will ask parents for help with concerns about money or domestic problems.
In contrast, men are more reluctant to ask their mom and dad for advice.
The Ultimate Christmas Sweater!
A former Nasa scientist has created the ultimate Christmas sweater for smartphone fans-- it features a 'live' flickering log fire.
Mark Rober spent nine years working on Nasa's Curiosity Rover, but he has quit that job to design and sell unique fashion items.
His latest line of knitted festive sweaters feature a small pouch at the front of each jumper, which can hold a smartphone.
A free app displays a flickering fire on the screen of the phone to give the appearance of real logs burning, which can be displayed in the knitted fireplace.
Ring Worn By Satan Herself On Sale At Craigslist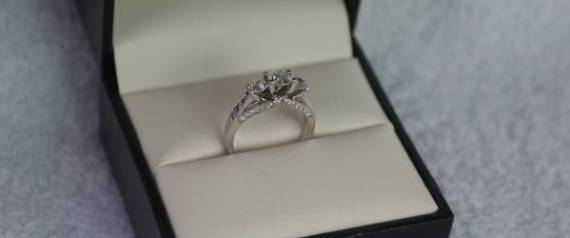 A Craigslist user from Pennsylvania posted an ad for a diamond engagement ring with a price tag of $1,800.

The ring has got some major history. The man claims the diamond was worn by "Satan herself," before describing the horror the ring has brought to his life since it was purchased.
Here's the ad:
"For sale I have a 1.5ct total weight engagement ring set in 14K white gold. The ring is in like new condition, only worn for a short period of time by Satan herself. Comes with the original box. Very pretty ring with a lower setting so the diamonds won't snag on everything. Diamonds along the sides and in the channel setting show off light from all sides. Originally purchased from Littman's for a sum of money far greater than I am comfortable admitting."
"Warning: ring may be cursed as it tends to leave a path of destruction behind it. Possible events associated with this ring include but are not limited to: damage sustained to house, vehicle, heart, downed power lines, fallen trees, and swarms of locusts. I would highly recommend taking action to counter the whirlwind of bad mojo that surround this piece of jewelry. Should consider having curse removed by voodoo priest or something before presenting to loved one. Other than that a very nice piece of jewelry. Looking to sell this soon before it brings any more bad luck into my life and I'd rather have cash. If not sold by Christmas I plan to throw it into the fires of Mordor."
Video Of The Day:
Today's video is the trailer for the new Spider Man 2 movie.. Looks awesome! Enjoy.

I have been on the air in Siouxland since 1999. Started here on KG95 in 1999, moved to Z98 in 2002 and then back to KG in 2012. I love what I do, it's not many people who can say that. Proud to literally been living the dream for almost 20 years.