Random Blogging For Friday August 8th
Hellooooo Friday! Feeling much better today, maybe it's just the fact that the weekend is here.. Hope you have a great one. Here's what you missed on the show today:
The Morning Brain Buster:
Q: On the internet, THIS takes place 73 times a second.
A: An order takes place on Amazon.com
Bonehead Of The Day:
A Bridgend resident set his home on fire while trying to kill a spider by setting it ablaze. The man sprayed the spider with an aerosol can and then lit it up. The fire got out of control and 999 was called.
During a nearly identical incident in Seattle in July, an attempted arachnid arsonist tried killing a spider that was on the loose in his laundry room by dousing it with spray paint and igniting it with a lighter.
The fire in Wales was extinguished and no one was hurt.
This Bloody Mary Comes With An Entire Fried Chicken
A nice celery stick can add to a Bloody Mary. The drink's kick is what makes it so popular, but what about if you're hungry during your sipping? Sobelman's, a bar in Milwaukee, introduced "The Bloody Masterpiece," a Bloody Mary topped with a hamburger. Not satisfied with the meat thrown in, the bar has created the "Chicken Fried Bloody."
The behemoth of a drink includes cheese, sausage, pickles, olives, onions, mushrooms, asparagus, scallions, shrimp, lemon, brussel sprouts, tomatoes, celery and an entire fried chicken. Will all that included, along with the regular alcohol, each "Chicken Fried Bloody" will set you back $50. Check out some pictures of this so called drink: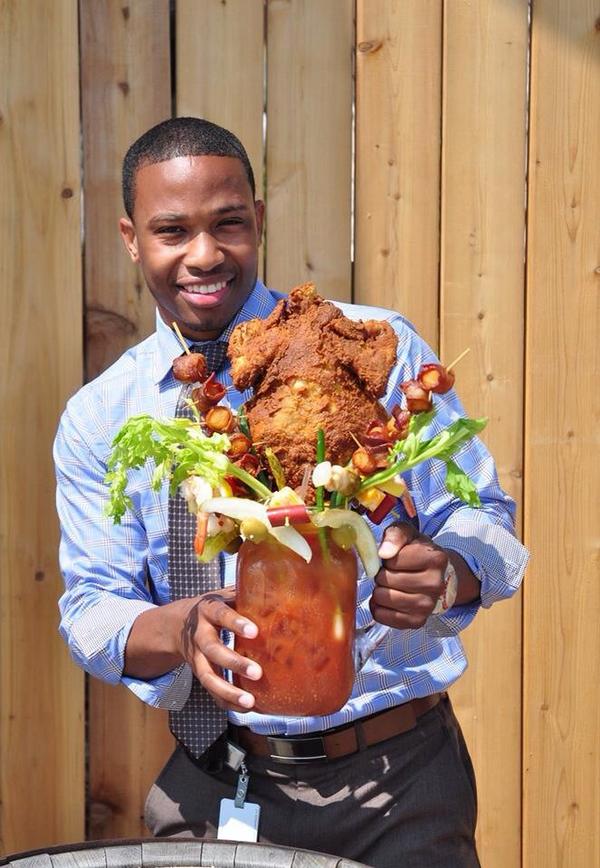 Bonehead #2
Police in Clearwater, Florida pulled over a car last month after they noticed something hanging out of the window. That something was a marijuana plant. The backseat of the car was filled with the potted plants, which it turned out the driver and passenger in the car had stolen from an acquaintance who owed an $100 drug debt. 20-year-old Justin Goodloe and 19-year-old Allen Thomas Barnes were both charged with manufacturing marijuana.
Birthdays:
Actors:
Ken Baumann ("The Secret Life of the American Teenager") – 25
Megan Good ("Think Like A Man," "Anchorman 2: The Legend Continues") – 33
Dustin Hoffman ("Tootsie" "Rain Man") – 77
Aubrey K Miller ("The Interview," "A Green Story") – 13
Katie Leung (Known for playing Cho Chang in the "Harry Potter" movies) – 27
Don Most ("Happy Days" "Dungeons and Dragons") – 61
Jenn Proske ("Vampires Suck" "Sexting in Suburbia") – 27
Connie Stevens ("Hawaiian Eye" "Wendy and Me") – 76
Countess Vaughn ("The Parkers" "Moesha") – 36
The late Rory Calhoun ("The Texan," "Motel Hell") (1922-1999) …he would have been 92
The late Esther Williams (FAST FACTS: She was a champion swimmer who later became a movie icon in aqua musicals include "Neptune's Daughter," "On an Island with You," and "Million Dollar Mermaid") (1921-2013) …she would have been 93
Musicians:
*NSYNC's JC Chasez – 38
U2's The Edge (his real name: David Evans) – 53
Creed's Scott Stapp – 41
Mel Tillis – 82
The late Webb Pierce (FAST FACTS: Pierce was one of the most popular American honky tonk vocalists of the 1950s, charting more number one hits than any other country artist during the decade.) (1921 – 1991) …he would have been 93
Plus:
EarthLink founder Sky Dayton – 43
Tennis champ Roger Federer – 33
WWE Diva Rena Mero (known as Sable) – 47
Egyptian president Mohamed Morsi (FAST FACTS: He was first democratically elected Egyptian politician who served as the fifth president of Egypt from 30 June 2012 to 3 July 2013, when he was removed by Field Marshal Abdel Fattah el-Sisi after June 2013 Egyptian protests and 2013 Egyptian coup d'état. He was the first democratically elected head of state in Egyptian history.) – 63
The late Matthew Henson (first African-American Artic explorer) (1866-1955)
Video Of The Day:
The Broadway cast of "The Lion King" took a break between shows on June 28th and took over a New York City subway car to give riders a little surprise. Why? Last year the subway served over 1-billion riders, and last year "The Lion King" became Broadway's first $1-billion show.

I have been on the air in Siouxland since 1999. Started here on KG95 in 1999, moved to Z98 in 2002 and then back to KG in 2012. I love what I do, it's not many people who can say that. Proud to literally been living the dream for almost 20 years.