Random Blogging For Friday August 15th
Good Morning! Happy Friday! Busy day for me today, got the Back To School Auction starting at 9am, so gotta get alot of stuff done before then! Plus Bill Maher tonight at the Orpheum! Hope you have a great weekend! Here's what you missed on the show.
The Morning Brain Buster:
Q: 41% of men said in a survey that they can't go a week with out this. What is it?
A: Pizza
Bonehead Of The Day:
Safes are heavy. 22-year-old Ryan Mullins of Swansboro, North Carolina smashed in a window at the pharmacy's drive-through then tied a rope around the 100-pound safe containing prescription drugs and dragged it along with his car. Unfortunately for him, he passed a police officer. Mullins is charged with felony breaking and entering, larceny, possession of stolen goods, two felony counts of trafficking opium or heroin, one count of safe cracking and misdemeanor DWI. Probably should have just had a friend help you lift it into your car...
Bonehead #2
60-year-old Robert Bower robbed a bank but was caught by police by the time he reached the parking lot. Oh, the Idaho man was in a wheelchair at the time, which probably didn't help his speed.
Mom Raps About First Day Of School
Tonette Mouton is a cool mom. The woman wanted her two sons still in school to take a "first day of school picture" and they refused. So what did she do? She wrote a rap about it.
"Just some advice, don't act up at school, boys, this momma will act like a fool. ... The next time, Donavon and Dillion, you don't want to take a first-day-of-school picture for me, this is what you get," she says. Her oldest son, who graduated from school, can be seen dancing in the background.
She told KiroTV she comes from a comical family and her boys took it pretty well. Donavon, the younger one in eighth grade warned he's working on a comeback. We'll be waiting!
You Can Buy Your Shoes With Mud Already On Them
Have you ever looked at your sneakers and said, wow, these aren't dirty enough? Well Adidas has the perfect pair for you.
ShortList is reporting designer Kazuka Kuraishi, Ryan Gander, and Adidas Originals teamed up to create a pair of shoes that come with synthetic "mud" all over the sole and base of the otherwise all white sneakers. If you're looking for it, it's named the ridiculous Adidas x KZK ZXZ 750 RG 84-Lab.
The idea behind them is reportedly to combine "performance sportswear" with "contemporary streetwear edge." That synthetic mud isn't cheap. Each pair will cost you $215.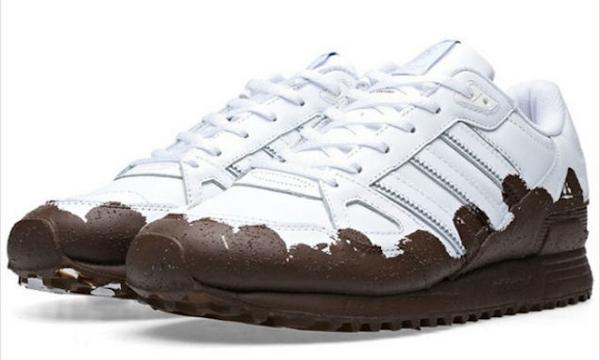 New Words Added To The Dictionairy
Earlier this month, Scrabble added new words to its dictionary like "bromance," and "selfie," and now the more respected "Oxford Dictionary" has made some additions as well.
Unlike Scrabble, which used slang words that just seem to be in common use, editors of the "Oxford Dictionary" analyzed 150 million English words used in newspapers, online and other sources, and chose ones they felt merited entry into its online edition.
Among the additions is "vape" or "vaping," which is inhaling smokeless nicotine vapors (come on, that's not all), as well "Paleo diet," "listicle," an internet article in the form of a list, "live-tweet" "YOLO" and "binge-watch."
So far these words have only been added to the online version of the dictionary, and won't necessarily be made permanent additions to the English language. "For some of these, we will say 'What was that?' in a decade," said Oxford Dictionaries editor Katherine Martin. "Others may become the next selfie. The English-speaking public will choose." That's what we're afraid of.
Source: Yahoo
Birthdays:
Actors:
Quinton Aaron ("The Blind Side") – 30
Ben Affleck ("Good Will Hunting," "Argo") – 42
Anthony Anderson ("Law & Order," "The Shield") – 44
Mike Connors ("Tightrope," "Mannix") – 89
Maddie Corman ("Seven Minutes in Heaven," "Some Kind of Wonderful") – 44
Tess Harper ("Breaking Bad," "Crimes of the Heart") – 64
Natasha Henstridge ("Species," "The Whole Nine Yards") – 40
Peter Hermann ("Guiding Light," "United 93") – 47
Jennifer Lawrence ("Silver Linings Playbook," "American Hustle") – 24 (FAST FACTS: She auditioned to play Bella Swan in Twilight, but lost the part to Kristen Stewart.)
Rose Marie (Sally Rogers on "The Dick Van Dyke Show") – 91
Debra Messing ("Will & Grace," "The Starter Wife") – 46
Rondell Sheridan ("That's So Raven," "Cory in the House") – 56
Musicians:
The Vamps' Tristan Evans – 20
Switchfoot's bassist Tim Foreman – 36
Boyzone's Michael Graham – 42
The Miracles' Billy Griffin – 64
Jonas Brothers' Joe Jonas – 25
Big Time Rush's Carlos PenaVega – 25
A Day To Remember's Alex Shelnutt – 24
Plus:
Daughter of Prince Philip and Queen Elizabeth II, Princess Anne – 64
Chef and "Top Chef" judge Tom Colicchio – 52
Celebrity stylist and reality star Brad Goreski – 37
Dancer and choreographer Chris Judd – 45 (FAST FACTS: He was once married to Jennifer Lopez.)
Beach volleyball Olympic gold medalist Kerri Walsh-Jennings – 36
The late French Emperor Napoleon Bonaparte – (1769-1821)
The late American-born French chef Julia Child (1912-2004)
Video Of The Day:
You probably don't remember what it's like to hear a lion's roar for the first time. Thanks to this video, we're reminded what a three-month-old would think of that sound.

I have been on the air in Siouxland since 1999. Started here on KG95 in 1999, moved to Z98 in 2002 and then back to KG in 2012. I love what I do, it's not many people who can say that. Proud to literally been living the dream for almost 20 years.